There's been a lot of talk about fashion this week. Maybe it's because there are a core group of players, namely wide receivers and defensive backs, that like to discuss the latest trends in clothing, shoes, etc.
Or maybe it's because I keep bringing it up. Whatever.
Anyway, we talked this week with Bills wide receiver Sammy Watkins, former Clemson teammate of one very fashionable DeAndre Hopkins.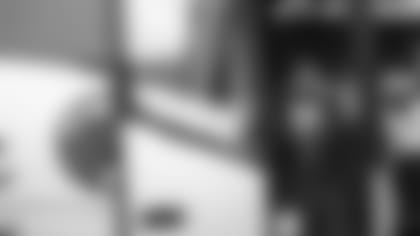 Watkins said he adapted his sense of style after playing alongside Hopkins. He even admitted to buying his first pair of man capris recently. Watkins recalls the biggest rule of fashion he learned from the Texans leading wide receiver.
Hop's Golden Rule: "You got to have swag, you got to be different."
Plus when you play like Hopkins, you can pretty much wear what you want, Watkins added. Hopkins probably has more fashion freedom than what can fit in his oversized manbag with the season he is having.
Wide receivers aren't the only ones with an affinity for threads. Kevin Johnson is pretty sure the defensive backs can hold their own when it comes to fashion.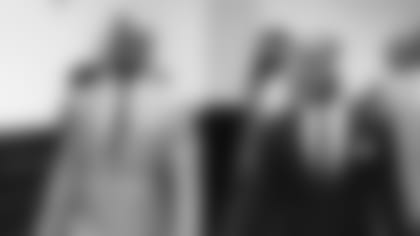 The rookie cornerback is this week's guest on "Texans Late Night." Johnson definitely has a swagger about him that extends even beyond his skinny jeans. Mr. Personality gets along really well with everyone in the locker room from vets to rookies, from defensive to offensive players. He's basically the super outgoing, fun guy you went to school with that fit in with every clique.
Quintin Demps also has a lot of confidence. He admitted to having the guts to get an autograph from Michael Vick when the two played together in Philadelphia. Demps even laughed about how he had "no shame," making such a request of a fellow teammate. He followed Vick's career and was a fan, so why not?
The holidays are coming up so I'm always on the lookout for cool ideas for gifts. This week in the locker room, I saw Ryan Griffin trying on some sort of virtual reality goggles. Upon closer inspection, they weren't goggles, but just a fancy cardboard box with holes, aptly named "Google Cardboard."
For $15, Griffin told me, you could buy this Google thing, download an app to your phone, and put it inside the cardboard box-shaped goggles.
Voila! I tried them out. The outerspace scene I saw was less Stephen Spielberg and more along the lines of a late 80's cartoon mixed with anime.
It's still an entertaining concept for just $15. Plus, all those capris and skinny jeans aren't going to accessorize themselves.