Between the white lines, most players are laser-focused, intense, even animalistic, some may say.
Off the field, they morph back into their normal selves.
And then there's Brian Cushing.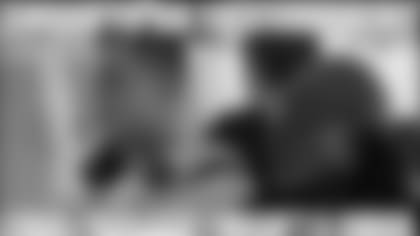 If you've ever wondered what the high-energy, smack-talking linebacker with black paint running down his face is like off the field, wonder no more.
This is how he gets his son Cayden pumped for school each morning.
I'll admit this looks like fun. I kind of wish someone would drive me to work like this every day.
While Cushing prefers good old-fashioned yelling for a pep talk, J.J. Watt ups his intensity in the exact opposite way. This week on Twitter, he dropped a nugget of information during the Grammys.
Now, if this is even remotely a topic of discussion, you're wrong.
After all, if listening to Adele helped Watt play through a broken hand, the flu, a groin injury, and who knows what else, then everyone should add her to their pregame music list. And did I mention he was still voted AP Defensive Player of the Year?
And I'm telling you that you're wrong to judge.
In other news, I was pretty excited about this tweet.
You can catch both sides of this interview on "Texans 360," airing Saturday nights at 11 p.m. CT on ABC-13.
Next week, we head to the NFL Scouting Combine where we'll see quarterback Paxton Lynch live as well many of the other 300 draft prospects. I can't wait.
Are you going to look at quarterbacks? YEAH!
Are you going to look at running backs? YEAH!
Are you going to formulate opinions based on guys doing drills in shorts and tees? ABSOLUTELY!