Yup, that's my Week In Review. Thanks, everyone.
Offseason workouts obviously took a backseat to the Houston flooding that made national news this week. Players, originally scheduled for press conferences Monday, began workouts Tuesday, and talked to the media on Wednesday.
Later that day, a bus full of Texans players headed out to Greenspoint to aid in flood relief efforts, serving food, handing out bedding, gift cards, and meeting displaced Houstonians.
On Friday, Brian Cushing heads to Germany and Kuwait for a week-long USO tour. I had a proud-mother moment when on Texans Radio, Marc Vandermeer and John Harris asked a DeepSlant-esque question.
Marc: What do you need to pack?
Cushing: Well, Kuwait is going to be about 100 degrees this time of year. Germany's going to be in the 30's, 40's, 50's so I'm probably going to have to pack different things.
Also, Cushing added that isn't supposed to wear cut-off tees, flip flops, or graphic tees. I'm slightly worried. Will there be anything left in Cushing's closet that he can pack?
There was one question that remained to be asked though. Is Cushing growing his hair out again? He definitely needs to make room in that suitcase for hair products.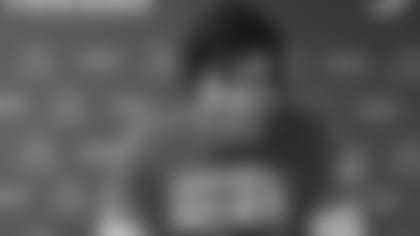 Trip Planner Extraordinaire
Speaking of trips, Brock Osweiler is the guy you want organizing your itinerary on a trip. Unless you're not a planner and you don't like to be on a schedule on vacay (that would be me). So no, I won't be needing the services of Brock Travel. Those who did, like Texans wide receivers and quarterback Tom Savage, did take a trip out to Osweiler's old stomping grounds at Arizona State for a week of QB-WR drills.
DeAndre Hopkins said he received an itinerary and schedule every day of Camp Osweiler, which averaged 95 degrees each day. In March. Just like summer camp in Houston.
New guy no more
Nearly a year ago, I sat down with first-round draft selection Kevin Johnson who had just arrived in Houston wearing a burgundy suit.
My first thought? Kareem Jackson and the defensive backs are going to love this guy.
They did, of course, and not just because he was a locker room fashionista. This week, Kevin sat down with me to do a year in review of his own. That will air on the Texans All Access Draft Special on Sunday, May 1 on KTRK-13.
Now that he's no longer a rookie, we can make fun of him just like everyone else. Kidding! For National Look-Alike Day, Johnson made our list of Texans with other famous doppelgangers.
I'm not sure what's funnier, trying to make these guys look like someone (it's all about the picture angles) or their reaction to it.
Either way, they were good sports about it.
You know who else is a good sport this week? Your mom or anyone who is a mom, especially in Houston. With schools shut down and roads impassable, she worked overtime this week at home (and didn't get paid extra for that!). What better way to reward her than to nominate her for a chance to meet Brian Cushing, DeAndre Hopkins and compete in a waterslide race aboard the new Carnival Breeze?
Click here to enter a deserving mom. Eight moms will win. You can vote for yourself too. We won't tell!