When the Texans' 2003 schedule came out during the offseason, one game stood out from the rest. Today was to be the first time that Texans QB David Carr, who was the first pick in the 2002 NFL Draft, and Falcons QB Michael Vick, who was the first player chosen in the 2001 NFL Draft, faced each other.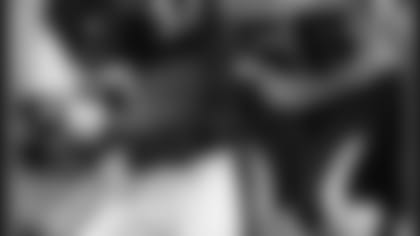 Davis breaks through the Falcons' defense for one of his many long gains in the afternoon.
Despite neither player starting the game, fans got exactly what they wanted in the second half. Carr replaced injured QB
Tony Banks
at the beginning of the half, while Vick made his long-awaited season debut later in the third quarter, when he filled in for QB Doug Johnson.
             With two of the NFL's youngest and most-promising signal-callers
             trying to lead their respective teams to victory, there was no
             shortage of excitement inside Reliant Stadium. Amidst all of the
             hoopla surrounding both playmakers' dramatic appearances,
             though, another up-and-coming NFL star ended up stealing the
             show.

             Texans rookie RB [Domanick
             Davis]() finished with a game-high 101 rushing yards on 24
             carries (4.2 avg.) and added two touchdowns to lead the Texans
             to a thrilling 17-13 victory. It was his fourth 100-yard rushing
             game of the season, and his fifth rushing touchdown of the year,
             which is a Texans' season-record.

             While Davis rushed for 49 yards in the first half, he showed his
             true value in the latter portions of the game after Banks had
             left with a broken hand. 

             Carr stepped in to take Banks' place, but he noticeably
             struggled with a shoulder injury. On his first pass attempt,
             Carr bounced a ball to WR [Jabar
             Gaffney](). 

             "It's one of those things, from your legs up you feel
             pretty good," Carr said. "Then you go to throw it and
             it bounces in the dirt. I had to ask people on the sidelines,
             'Did that get tipped?' But it didn't get tipped. It was just a
             bad ball."

             Nevertheless, Davis shouldered the Texans' offensive load by
             contributing on a variety of run plays and short screen passes.
             The four-time NFL Rookie of the Week gave the Texans their first
             lead of the game with a seven-yard touchdown run on the Texans'
             first drive of the third quarter. On the team's ensuing possession,
             Davis ran for a two-yard score to put the Texans up for good
             17-7.  

             With most of the game's hype focused on the young quarterback
             showdown, Davis turned the attention to himself and proved yet
             again that he deserves to be considered along with Carr and Vick
             as one of the NFL's premier young offensive talents. 

             "I
             always have to deal with people saying that I'm too small or
             that I'm a third down back or a special teams player,"
             Davis said.
             "No, I can play running back every down and now they
             are finding out what I can do.
             I am just going to keep doing what I have been doing."

             With the win, the Texans are now 5-7 and have surpassed their
             win total from their inaugural 2002 season. Additionally, there
             are still four games remaining in the season for the Texans to
             build on the accomplishment. 

             "Anytime you start thinking about what our goals are at the
             beginning of the season, certainly one of those goals is we want
             to be better than we were last year," K [Kris
             Brown]() said. "It's exciting for us to already have
             eclipsed the win total from last year with four games left to
             play. It's just something to build on. 

             "Now, our focus is the last four games. It starts next week
             at Jacksonville. The most important thing is for us to try to
             get that back-to-back win, which we haven't been able to
             do."

             The Texans have tonight to enjoy their win before returning
             tomorrow morning to lift. They will start preparing for
             Jacksonville on Wednesday.