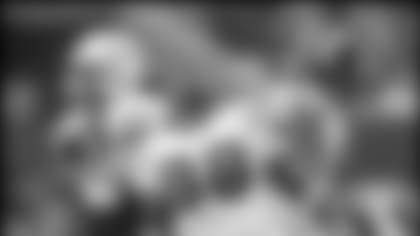 Coaches in the National Football League take the word 'preparation' to an entirely new level. Hours upon hours are spent in the film room, breaking down and studying opponents, their schemes and their tendencies.

But Antwan Peek isn't the easiest defensive threat to plan for. He often times flies under the radar.
While he doesn't get an opportunity to show his insanely incredible natural talent on every single snap, he does take full advantage of each second spent manning his outside linebacker position.
Peek has participated in just about 12 percent of the team's defensive plays, but he's made his time count. This season, he picked off his first career interception, helped the Texans preserve a win in Kansas City with a10-yard sack in the fourth quarter and blocked a punt in Denver.

Opposing coaches have a hard time drawing up ways to stop him; partly because they really don't know what to expect from the hidden talent, and partly because his natural ability is just that good.

Now in his second year in the league, Peek is making a pretty good case to his own coaching staff that his disruptive style of play should be better utilized. But he's taking every day of practice and game action into stride, chewing up the information and spitting it out in his play.
"Having to watch from the sideline, it benefited a lot because I had a hard time trying to pick up the defense last year," Peek explained. "I'm starting to understand everything that's going on and it's starting to get a little more interesting. It's kind of like watching a movie; you can't really get into it until you get the main parts of the story."
Peek played in 10 games last season as a rookie. The former Cincinnati Bearcat also stepped in as a starter at right outside linebacker for an injured Charlie Clemons for four contests. Fans were seeing his flare and hunger not only on special teams, but now in defensive coverage and in the pocket.
A home Reliant Stadium crowd was introduced to Peek against Jacksonville, when he made his first NFL start while helping the Texans to a thrilling 24-20 win in 2003. Two weeks later, he pummeled veteran quarterback Vinny Testaverde when the Jets were in town, recording his first-ever sack in the professional ranks.
Peek made his statement – he was in the NFL to stay.
His expectations were high heading into 2004. Part of a Texans defensive resurgence committed to raising the bar on the pass rush, Peek is now more comfortable in his role when the ball is snapped and in his responsibilities in the classroom, as a student of the game.
"You have to process a lot of things that much faster because guys are faster in the NFL," he explained about making the transition from college. "You have to know what you're going to do before the ball is snapped. Last year, the ball would be snapped and I was still trying to think of what I supposed to do and everyone was coming at me."
This time around, it's a different story. Relieving both Kailee Wong on the right side and Jason Babin on the left when given the opportunity, Peek embraces everything thrown his way.
"Now it's just like, I'm coming out," he laughed. "I know what to do so they have to stop me from doing what I've got to do."
Peek has proven that even though he may be a little more polished, he's no less intense. Right now, he's paving the way on special teams, leading the unit in tackles. Even more memorable was his blocked punt in Denver when the Broncos lined up at their own 16 to get the ball off.
Peek ran the called stunt, beat his guy and got a hand on the ball, picking up his first blocked punt since joining the Texans. The loose ball bounced right into the hands of teammate Jonathan Wells who raced to the one-yard line. On the next play, Peek's efforts were converted into a touchdown as Houston cut Denver's lead to 10-7.
In the third week of the season, Peek saw his first significant time on defense. He didn't disappoint. Watching on for three quarters, Peek was itching to get into the game and help his teammates pull the Texans' first win of the season in Kansas City. Finally, he got his chance.
The score was tied at 21 and the Texans defensive coaches knew they needed an extra punch to keep a potent Chiefs offense out of the end zone. Peek dropped quarterback Trent Green for a 10-yard loss on what would be the Chiefs' final drive of the day.
Peek was ready and he delivered.
"If you're that guy that they call to come in at the time, they kind of expect you to be able to get the job done," he said about helping Houston in the last-second win at Arrowhead Stadium. "I was just excited about the game, period. I knew that we needed to win and I was just pumped, that's how I always am."
He then stalked Green again on 3 rd and 12, pressuring him 10 yards deep into the pocket while enabling teammate Kenny Wright to come up with the sack that ended the Chiefs' final efforts.
The 25-year-old is finally settling in to the linebacker position after playing a myriad of posts throughout his high school and college years in Cincinnati. At Woodword High he was a standout receiver but also chipped in at quarterback, running back, field goal kicker, punter, and sometimes even switched over to defense.
When he took a scholarship at Cincinnati, he was quickly converted from a receiver to a safety and shortly after, to a defensive end. He put on 65 pounds and now weighing in at 248, Peek's name was starting to circulate around scouting cliques at the 2003 NFL Combine.
Luckily, Houston was able to snap him up in the third round and he's been turning heads ever since.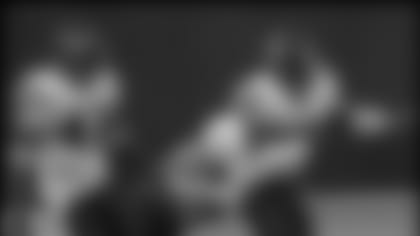 Just a few weeks ago at Indianapolis, Peek enjoyed another 'first' since becoming a Texan. His first career interception came against one of the league's most unforgiving passers in Peyton Manning. From his right outside station, Peek had Manning's number from the start of the drive. He finished it off by stepping in front of tight end Marcus Pollard and raced another 20 yards to set up Houston's second scoring drive of the day.
"Peyton had thrown that pass the previous time before," Peek explained. "I didn't feel that I dropped the way I thought I should've on that so on the next play, I thought I would go closer towards the receiver. I did and it seemed like the ball just came directly to me.
"It was an exciting moment. I think the most exciting thing was seeing the ball come towards me and I thought, 'Oh my goodness, this is my first one'."
And it certainly won't be his last. Peek just needs the opportunities, and when he does get them, he plans on making his presence known.
"I know if I make a play, then I'll have the opportunity to make more plays as the season progresses," Peek said with a smile. "It's all about being hungry because I know I'm on the bench right now and I'm trying to get as much air time as possible.
"I'm just trying to work hard and give the coaches a reason to put me in."