The Texans should see increased production out of the tight end position in 2004, both on the blocking and receiving fronts.
No Texan has caught more passes than Billy Miller, who has hauled in 91 passes for 968 yards and six TDs over the past two seasons.
"Billy has proven that he's an excellent pass receiver," head coach Dom Capers said. "He's made a number of big plays for us. Billy is a good matchup for us against most of the linebackers we play against."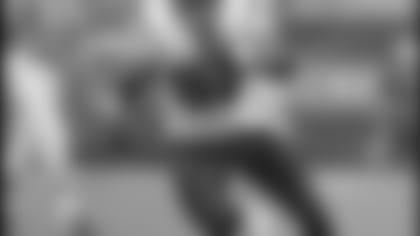 Miller's production dipped a but in 2003 with the arrival of running back Domanick Davis and wide receiver Andre Johnson. But he still caught 40 passes and remains a key target for quarterback David Carr. If Carr, Davis and Johnson represent the Texans' version of the Cowboys' 1990s "triplets," remember that Troy Aikman wasn't always handing off to Emmitt Smith or going deep to Michael Irvin. Jay Novacek caught himself plenty of balls.

"My asset is no secret -- running down the field and catching balls," Miller said.

Miller was a wide receiver in college and has bulked up in the pros. But he's still short a few pounds by tight end standards. So Houston also signed veteran Mark Bruener, one of the better blocking tight ends in football. Capers is looking at Bruener to contribute beyond the playing field.
"He's always been one of the better blockers in the league but I really think Mark is an excellent addition to our team because of his experience and leadership capabilities," Capers said. "We've been so young on offense the past two years and I think Mark brings a veteran element to our offense. He's tremendous to have in that meeting room."

In Bruener, Miller sees a player that can complement his skills.

"I think it's great that they brought Bruener in," Miller said. "Mark has taught me some things that have helped me become a better tight end. He's been known throughout his career as a good blocker."

Remember Bennie Joppru? The Texans' 2003 second-round pick never saw the field as a rookie due to a groin injury. Joppru is healthy and looking to make an impact in his "rookie" season.

"Hey, he's still a rookie," Miller said. "Until he gets three games under his belt, he'll still be carrying my helmet."

Joppru was impressive at Michigan as both a receiver and blocker. The Texans also have Jabari Holloway and Matt Murphy battling at tight end. Holloway caught eight passes last season. The Texans picked up Murphy at the end of last season.

TIGHT ENDS:Miller, Bruener, Joppru, Holloway, Murphy

FUN FACT:The Steelers averaged 2,142 rushing yards per season during Bruener's nine-year stint in the Steel City.