It was a good 20 minutes after practice and rookie tight end Bennie Joppru was still laboring on his blocking technique with position coach Greg Roman. His fellow draft picks were harassing him from afar for delaying their photo shoot.
When Roman finally dismissed the second-round pick, he offered a stark reminder.
"Work on your footwork when you get home," Roman said. "You've got Jason Taylor to block in the opener."
Welcome to the pros, Bennie. At Michigan, Joppru probably felt like a big receiver, catching 53 passes as a senior. But in the NFL, while receiving is a nice asset, you also need to prove your competence in the trenches. The Texans want their tight ends to bring both skills to the table.
"You need to be physical and also need to show good hands," Texans head coach Dom Capers. "Tight end is a very important position in our offense."
And the Texans have a little variety at that very important position. Whether it's Billy Miller's hands, Jabari Holloway's size or Bennie Joppru's upside, the Texans can give opponents multiple looks.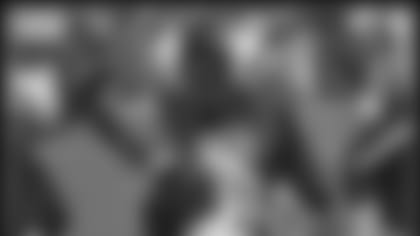 Miller hopes to get mobbed in the end zone even more in 2003.
Miller led the team with 51 receptions last season, averaging 12 yards a pop. He scored the team's first-ever touchdown in the season opener against Dallas, one of three scoring grabs. Miller hauled in 31 of those 51 passes over the season's second half, as he started to click with quarterback David Carr.
"Billy was one of most productive offensive players over the second half of the season," Capers said. "He became a guy that had a real comfort level with David."
Whereas Miller's strength is in his receiving skills, Jabari Holloway has emerged as a bruising blocker that can also catch in a pinch. He had seven receptions in 2002. Holloway has been one of Houston's most voracious off-season workers, adding nearly 20 pounds to his frame.
"Jabari is a very good blocker and has worked as hard as anybody we have in the off-season," Capers said. "He's gone from the 240s up to about 266. His added size will help him as a blocker."
The Texans are high on Joppru, who set a Wolverines' single-season record for receptions by a tight end. Capers and his staff got a good look at Joppru in the Senior Bowl and were intrigued by his skills and instincts. Joppru caught 53 passes for 579 yards and five touchdowns as a senior.
"Bennie is an all-around tight end in that he's a physical blocker with good hands and is a very smart player," Capers said.
The Texans added former 49er Justin Swift to their roster yesterday. Swift has displayed solid blocking skills and can also boast 23 receptions over three full seasons.
Houston's other two tight end prospects aren't in coaching sessions right now. Rashod Kent is playing for Scotland in NFL Europe and has acquitted himself well, catching seven passes for 79 yards and one touchdown. Rookie free agent Greg Porter, a former Aggie, showed up for rookie mini-camp but is now playing minor league baseball in the Anaheim Angels' farm system.
The Texans kept two tight ends last season, not counting Sean McDermott, who is listed as a tight end but handles the long-snapping duties. But expect the Texans to carry more in 2003 as they spruce up their offensive formations.
"I think that we became somewhat predictable when we ran two tight ends last year because there was such a differentiation between blocker and receiver," Capers said. "I think we'll be able to become much more efficient with two tight ends on the field.
"I think we'll have the ability to trot out a two-back, one-tight end, two-wideout offense, a one-back, two-tight end, two-wideout offense or a one-back, one-tight end, three-wideout offense."
         Options
         are what you want on offense as a head coach. And the Texans' tight
         ends will be critical to the overall success of that unit this
         season.