Jammal Lord knew he could run the option offense as a quarterback at Nebraska. He also knew the NFL wouldn't afford him that luxury.

But Lord also knew he could still play football, anywhere on the field, at his sport's highest level. If only a team would give him that chance.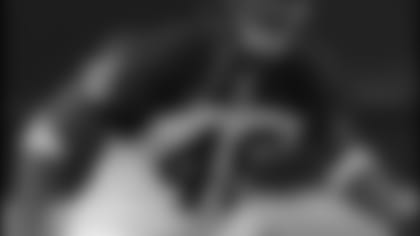 "I just wanted a chance to play football again," Lord said. "That's my love and that's what I like to do."

The Texans did give Lord a shot, drafting him in the sixth round with the intention of trying him out at free safety.

It's tough enough making an NFL roster as a sixth-round pick. Try doing it as you're learning a position you've never played. But although Lord has switched roles from the roadrunner to the coyote, he's still relying on his athletic gifts. And those gifts have served him pretty well thus far.

"It's a work in progress," Lord said. "I just have to work hard in the weight room, in the meetings and out here. I have size and speed, which are important. And I like to run."

Indeed he does. Lord was in the unenviable position of following former Hesiman Trophy winner Eric Crouch at Nebraska. But Lord rushed for 2,360 yards in two seasons as the Cornhuskers' starting quarterback. As a junior, he set single-season school records in total offense (2,774 yards) and rushing yards for a quarterback (1,412).

And although he's never played safety, Lord is well versed in the position's tendencies. Who do you think he was watching when he lined up under center?

"At Nebraska I had to read the safety," he said. "Now I'm the safety trying to read the offense."

Head coach Dom Capers thinks Lord's athletic ability, coupled with the knowledge he gleaned as a quarterback, makes for an intriguing combination.
"You can see that Jammal has been a quarterback because he's really into it mentally," Capers said. "He's doing a good job of communication. I think he's made progress. He has not played the position so he has a ways to go there. But you can't expect too much early."
Right now, Lord is enduring a crash course, trying to master the footwork and technique tidbits that most defensive backs have spent many seasons mastering. He's also seeing lots of special teams action. It's a long road from mini-camp to the final roster cut, but so far the Texans like what they see.
"He's done a good job," defensive backs coach Jon Hoke said. "It's not an easy transition going from being chased to being the chaser. He's made that adjustment and he's picking things up.

"The technique part of it is still a little bit rough for him. But as the days go on, you see him getting better and better. He's a very good listener."

Lord will tell anybody that listens that he can pull this transition off.

"I just want the opportunity," he said.

And, wouldn't you know, right after Lord leaves Lincoln the Cornhuskers hire former Raiders head coach Bill Callahan, who is looking to install (gulp!) the West Coast offense. Option purists must be shivering.

"I don't know what's going to happen up there," Lord said. "But I'll be watching."