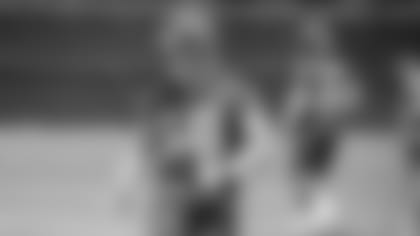 Brooks Reed prides himself on his workouts. Former teammate Connor Barwin even joined the Texans' starting outside linebacker in the gym to train this offseason.
"He came down here realizing he couldn't get a good lift without me because during the season I'd push him," Reed said. "He never wanted to do squats or anything. So he came down. He knows. He came down here and we pushed each other. He's in great shape and they are running a different offense over there so he's running around on the field everywhere. It's been a fun few weeks."
Reed's brother Lucas, who signed with the Broncos as an undrafted free agent this offseason, has also been to Houston this summer to visit and train with Reed.  
"We got after it and trained really hard and it's just that period of time where you need to buckle down and focus on getting better," Reed said.
Whitney Mercilus takes the place of Barwin, who signed with the Philadelphia Eagles in March. Reed, now entering his third season with the Texans, feels confident that Mercilus has gone through rookie growing pains and is ready and capable to fill the starting role.
"He's been the starter since Day 1 and he's been working his butt off this offseason, I know," Reed said. "He's a lot stronger this year and I could tell mentally for a rookie, it's tough. Trying to go from special teams to this and that and learning new coaching styles and all that so I think he's got it down. He's had that time to adjust and adapt to this new position. It's a position where the coaches just want him to get sacks and he's fully capable of doing that and I know he will get it done."
With a franchise best 12-4 record behind them, the Texans look to position themselves for a championship in 2013. Houston was one of only two teams to finish in the top ten in both offense and defense in the regular season last year. This year, a second consecutive AFC South division title banner will be hung from the rafters of Reliant Stadium but the team is working towards a bigger goal.
"We are still taking the same approach. We still have the same goals and that's to get to the Super Bowl," said Reed. "As far as me personally, I have been training just as hard. It kind of feels the same, the offseason. We know we have to get past that game, like the Patriots. We have to get past that and we've got to overcome that. Thankfully, we have some favorable home games this year with some tough teams. Hopefully, that will make a difference but it's all about preparation at the end of the day."
The 2013 season kicks off with training camp beginning Friday, July 26 at the Houston Methodist Training Center. For a complete schedule, click here.