 Editorial note: First and Ten with Travis Johnson first appeared in the 10/22 edition of Houston Texans Gameday Magazine.
Travis Johnson is now in his second year patrolling the defensive line for the Houston Texans. With
now playing a 4-3, the Texans' second-round pick in 2005 is back playing defensive tackle, a position he played while starring for the Florida State Seminoles. Johnson is one of the more colorful characters in the locker room and is quick to put a smile on his teammates' faces.
1) What was your favorite college moment?
*"I actually have two of them, really. Probably when I took over the
when coach (Bobby) Bowden beat Joe Pa (most wins Division I all-time) and me and Michael Boulware carried him off on our shoulders, that was probably my best college moment."
2) What's your favorite NFL moment?
*"Probably my first sack against
3) What's your favorite movie?
*"I got a lot of them. Right now I've been watching "
4) What's your favorite food?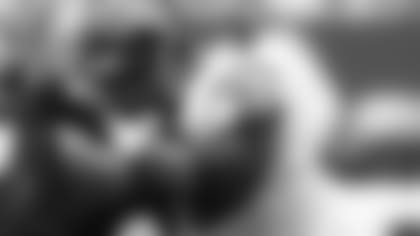 5) What's your favorite vacation spot?
6) Who was your favorite athlete growing up?
*"I would say Magic (Johnson), Bo (
guys. But Deacon Jones is over all of them."
7) Who's the person you admire most?
*"My parents. Just because they help me get through anything I'm going through in life and they're just there to support me. I have great parents. They've been married 25 years now and it is something that if you see every day, you want that in your life. My father raised me and it was a blessing, and my mom was there to support me all the time."
*"Bad. I was mischievous. Growing up I was the ADD kid, so I was always bouncing off the wall, getting in trouble, didn't like school."
9) If you weren't a professional athlete, what would you be doing?
10) Any advice for kids who play football?
*"Just enjoy it. You don't ever want to tell kids nowadays that they will never be a pro. Everybody told me that. They probably told everybody that, so just enjoy it. The likelihood of you going to the pros is slim, but get what you can out of it. Get that free education."