Yes, he led the nation in passing at Fresno State. Yes, he wowed scouts at the Senior Bowl. And, yes, he moved to Houston immediately to immerse himself in the playbook and the off-season program.
But let's not kid ourselves. The education of David Carr begins today. The Texans kicked off training camp Monday and their rookie quarterback was running the first-team offense. The pads were on, the enthusiasm was high and the cameras were clicking.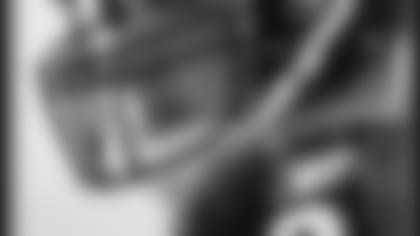 Welcome to the jungle, David.
"The intensity picked up," Carr said. "But I was expecting that."
There were some hits and misses. But the Texans acknowledged that the more reps Carr takes in camp, the more he'll pick up and the more prepared he'll be for his rookie campaign.
"It's going to be a real quick learning period for David," Texans head coach Dom Capers said. "He'll work as hard as any player on our team and he'll study and that's one of the things I like about David.
"He's a rookie QB in the first day of training camp. I don't think there's anybody that's ready to go out there and start right now. He certainly has the ability, how much progress he makes is something that we'll evaluate as we go along."
There was no questioning Carr's arm strength as practice went along. The spirals were tight and his release was solid.
"All four quarterbacks throw a nice ball," rookie wide receiver Jabar Gaffney said. "But David throws a harder ball. That's how a receiver wants it -- quick, so that he can make a move on a linebacker or somebody."
And by all accounts Carr acquitted himself well in the huddle.
"I think he looked good," Texans center Steve McKinney said. "It's the first day of pads so obviously it's going to be an adjustment for any quarterback.
"I don't care how long you've been in the league, that first day you're going to be a little bit rusty. But he handled everything well and it will only get better."
Texans offensive coordinator Chris Palmer liked what he saw from Carr but also what he saw from Houston's defense. Palmer noted that lining up against two experienced cornerbacks in Aaron Glenn and Marcus Coleman will make Carr adjust to the pro game that much quicker.
"I thought David did well," Palmer said. "Obviously, he'll get better with each practice but I was pleased with the way he came out and handled things. It's still early but he did a very nice job."
Despite heading into training camp at the top of the depth chart, Carr isn't taking anything for granted.
"I want to play as soon as possible but that's something I think any player wants to do," Carr said. "All my life I've had to earn everything that I've gotten. Coming in as the first pick, you still want to earn what you get. That's something that's always stuck with me so I try to work as hard as everybody else out there, even if I'm getting a little more attention."
While the media pays attention to him, Carr will be paying attention to his playbook. Capers has stressed that every snap on the practice field is crucial, especially these first two weeks before the first preseason game. So Carr's classroom work will directly affect his on-field precision.
"Some of the plays still look Chinese to me," Carr said. "But when I was here in June, three-quarters of them looked Chinese -- now maybe half of them do.
"I'm learning that training camp is kind of like the game plan, you've got to know how to attack it. You look at each script for each practice to make sure you know what's going on that day. And hopefully you learn from each one."
Carr is learning the ropes of this league both on and off the field. He knows he has to earn the trust of his teammates, something that may not happen overnight. But Carr is also confident that he will succeed. That confidence is what got him to this point in his career.
"If you're just yourself and you give them the respect they deserve, it's not hard," Carr said. "Guys like Tony Boselli, they have set a path for you to succeed. You try to live up to their expectations before you try to assume a leadership role."