It would be easy for critics to use the glass-half-empty perspective when examining the Texans' second season as a franchise. However, by focusing on the Texans' myriad of injuries, close losses or how far they are from playoff contention, people would be missing the point.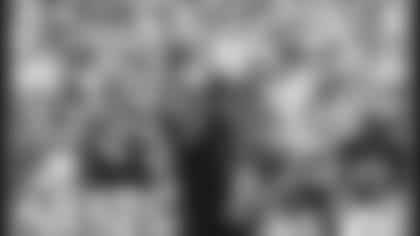 Carr showed once again that the Texans are in good hands after a gutsy performance yesterday.

Having just played 31 games, the Texans are the youngest team in the NFL. As head coach Dom Capers has said on numerous occasions, at this point in his team's development, they should be judged less on their current record and more on where they're headed.
Considering how well their young offensive triplets--QB David Carr, RB Domanick Davis and WR Andre Johnson--have jelled together, the Texans can be assured that they're moving in the right direction.
Those three players form arguably one of the most explosive 1-2-3 combinations in the league, and they've just started to crack the surface of their potential. Largely due to those three players' production, the Texans have long passed their first-season yardage and point totals, and they still have one more game remaining.
After missing time during the middle of the season due to injury, Carr returned to the starting lineup against Tennessee and re-established himself in the huddle. He threw for 242 yards and one touchdown to get the Texans' offense back on track after two mediocre performances. Most importantly, he remained tough against one of the NFL's most tenacious pass rushes.
"I told him he was not going to finish the game," Titans LB Keith Bulluck said. "At the end of the game, I told him he had heart and I enjoyed playing against him. He's going to be a winner in this league."
While he may be too modest to admit it, Davis can take some of the credit for Carr's success. The relatively small rookie has made a huge difference with his deft running skills and solid blocking in blitz-pickup situations.
Yesterday, he showed maturity well beyond his years after his fumble was recovered by the Titans and returned for a touchdown. He came back with a touchdown of his own in the next quarter, which gave the Texans a 24-20 lead late in the fourth quarter.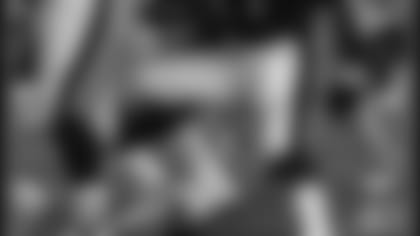 Davis returned with a vengeance after a critical second half fumble.

"Anybody that knows Domanick, knows he is such an intense competitor," Capers said. "He is more mature than most rookies. It was just killing him yesterday when he fumbled that football. But he wasn't going to sit around and sulk about it. He went back out there and did something about it."
Now that the Texans have a legitimate 1000-yard running back to lean on, not to mention the fact that he is the team's second-leading receiver, opposing teams can't afford to focus on just stopping the pass.
Which is music to Johnson's ears. The third pick in the 2003 NFL Draft has been the healthiest player out of the three, having started each game on his way to leading the Texans with 61 catches for 925 yards (15.2 avg.) and four touchdown receptions.
Johnson has been benefited a lot from Carr and Davis. With Carr's ability to find the open receiver, and the consistent threat of Davis rushing, teams that double-cover Johnson risk spreading themselves too thin.
In yesterday's game, the Titans fell into that trap and Johnson made them pay for it. He connected with Carr on two pass-plays of 37 and 42 yards that swung the momentum in the Texans' favor late in the game.
"He made some big plays," Capers said. "I think what you see of Andre is what we know he is capable of doing. The encouraging thing is we're going to have David (Carr) and him together for a long time. You're going to see a lot of big plays like that and they're going to do nothing but get better."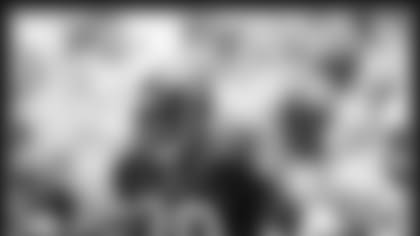 Johnson made some great open-field moves after the catch against the Titans.

Another nice thing about all three players is that they play well together and their individual games complement each other. Unlike some teams with players that demand the ball, the Texans' young trio understands that their success does not have to be mutually exclusive. One player's gain is another player's gain.
"One of the things I like the best about all three of those guys is they're all talented, but as talented as they are, they're all top-shelf, first-class guys with a good work ethic, a good attitude," Capers said. "You're never going to see any one of them point a finger, or place blame or make an excuse. That's just not what they're about. That's encouraging because I think over the long haul that's what you win with."