*"You guys don't realize it yet, but you hit the lottery… (Tony Hollings) has that burst of speed and then he's gone. He's similar to Mike Vick in the way he can just change gears and hit top speed in two or three steps." *–nowornever (Houston Texans message board)
While he still has a long way to go before he can be compared to Atlanta Falcons quarterback Michael Vick, there is a valid reason why 5-10, 216-pound Texans rookie running back Tony Hollings has a Superman insignia tattooed on his shoulder.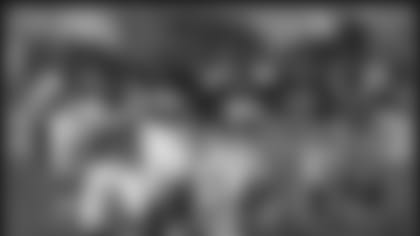 Hollings shows his break-away speed during training camp.

"When I was in high school, the coaches on the opposite teams were calling me Superman because of some of the stuff I was doing out on the field," Hollings said. "Nobody had seen anybody do the things that I was doing to the defense, so I just decided to get (Superman) on my arm."
Well, nobody had ever seen a relatively unknown former safety carve up opposing defenses the way Hollings did in 2002, either. Before the 2001 Yellow Jackets season began, head coach Chan Gailey, formerly of the Dallas Cowboys, was looking for a running back to replace the departed Joe Burns. Hollings offered his services.
"I asked (coach Gailey) if he would give me a shot at running back," Hollings said. "And he told me, 'If you feel positive enough to come in and ask me to play the position then I feel like I can give you a chance.'"
Hollings saw the crack in the door and kicked it wide open. Before the season began, almost every preseason college football magazine described the Yellow Jackets' running back position as a question mark entering the season. It should have been an exclamation point.
Hollings made jaws drop with 633 yards on 92 carries (6.9 avg.) and 11 touchdowns against the University of Connecticut, Vanderbilt, Clemson and BYU. Those rushing numbers, which only five other ACC running backs surpassed during the entire year, led the NCAA through the first four games of 2002.
"I worked really hard with my coaches to learn the offense," Hollings said. "I didn't expect to come out and do so well so soon, but I was blessed with the first four games and I was able to lead the nation in rushing."
Unfortunately, Hollings brilliance was short-lived. He tore the anterior cruciate ligament and the lateral meniscus in his right knee during the Yellow Jackets' fourth game against BYU, where he ran for 189 yards and three scores. After the injury, Hollings decided that he was ready for the next level and he registered for the NFL's supplemental draft.
Knowing how serious a knee injury can be to a running back's lateral quickness and maneuverability, not to mention confidence, a lot of NFL teams had doubts about Hollings entering his pre-draft workout. Again, Hollings put all questions to rest.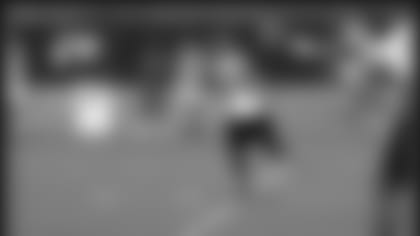 Hollings runs a route out of the backfield while quarterback Tony Banks drops back to pass.

In front of 23 NFL teams, Hollings did 17 repetitions of 225 pounds on the bench press and had a 36.5" vertical leap. Due to his knee, he opted out of running the 40-yard dash. Nevertheless, before the injury, Hollings had been clocked at 4.38, which would have tied him with the Raiders third-round pick, Justin Fargas, for the fastest 40-yard dash time out of all the running backs drafted in 2002.
"It went well," Hollings said. "I didn't expect as many teams to show up, but I just went out and did my thing."
Hollings' raw talent and speed especially intrigued the Texans, who were looking to improve on an AFC-low 1,347 rushing yards in 2002. When he became available in the second round of the supplemental draft, the Texans did not hesitate.
"I think it is a great situation for both of us," Hollings said. (The Texans) got a great player in me, and I was able to get in a place where I am able to learn. I'm on a young team where we can only get better and continue to grow."
The Texans backfield is crowded, but Hollings views that as a positive. With only four games of running back experience, he knows that he needs as much advice as possible. With a combined 13 years of playing experience between running backs James Allen, Jonathan Wells and Stacey Mack, there is a lot that they can teach Hollings about rushing in the NFL.
"I try to watch the other guys that have been here and been doing it for a while," Hollings said. "They are really helpful. Every time the rookie running backs have questions, we ask the older guys and they are willing to help every time."
So far, Hollings has had to play catch-up. Because he was drafted on July 1, he missed all of the Texans mini-camp practices. He is also only nine months removed from his knee surgery.
"Tony is the only (running back) that hasn't had the advantage of 19 practices and 19 meetings," head coach Dom Capers said. "He is not going to go out there and be right up to snuff with everybody. I think we will see him get better every day that we're out there. It is just going to take patience on our part and we have to be smart not to overwork him early."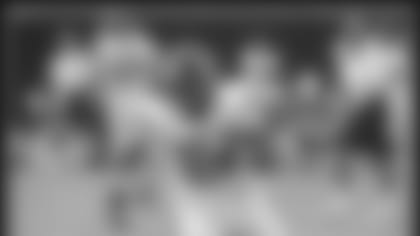 In the open field, Hollings puts on the jets as Capers watches him intently.

Considering the injury to his knee, lack of experience playing running back and the whirlwind surrounding him since he was chosen in the supplemental draft, Hollings has had as good of a training camp as any Texans player. His teammates definitely notice him.
"Tony's a good ballplayer," quarterback David Carr said. "People say he's a raw talent, but Tony's got some good, just natural, speed. He'll learn to hit the holes and cut it up."
Entering this season, Hollings knows that the coaches are not expecting him to be the immediate savior that turns the Texans into a champion; at the same time, though, he feels confident that he can contribute and make an impact.
"I know starting probably won't be something that I do this year," Hollings said. "My goal is to try and get on the field and help out."
It may take a little bit of time to see if the Texans indeed hit the lottery, but Hollings sure feels like he has been lucky.
             <span>"To
             have been able to attract this much interest in such a short
             period of time," said Hollings, "I feel truly blessed."</span>