Dom Capers gazes out onto the practice field and he can't help but smile.
He sees an offense that returns intact, without a single rookie in the lineup. He sees a defense that is healthy and more talented. He sees two of the better specialists in the league. And he sees a coaching staff that can maximize its practice time.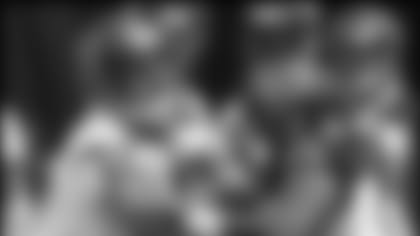 In short, he sees a team that can succeed in 2004. Mind you, the Texans didn't roll over and play dead in their first two NFL seasons. On the contrary, they might have been the hardest-working team in the league. But youth and attrition eventually took their toll, as you would expect they would on an expansion team.
Yet as we enter year three of Houston's NFL reclamation project, we're starting to see the makings of a successful franchise. And that's just what Capers envisioned when he took the head coaching job three years ago.
"I had hoped this would be the case," he said. "Sometimes you have to bite the bullet and we certainly did. I look back through our depth charts from the first year compared to our depth chart now. It's a big difference."
In 2002, the Texans opened their first training camp with 100 players from all walks of the NFL and the college ranks. Many hours were spent trying to get all of those guys on the same page, familiar with the same system. And, truth be told, many hours were spent teaching players that would never play in this league.
But the Texans managed to win four games behind a veteran defense that compensated for an offense that started five rookies. In 2003, the Texans boasted a little bit more experience but were ravaged by injury, sending a league-high 17 players to the injured reserve list. But Houston won five games, and the Texans had a fourth-quarter lead in four of their 11 defeats.
Will the third year be the charm? Nobody knows for sure. The Texans still have one of the youngest teams in the league and still reside in one of the NFL's toughest divisions. But on the practice field, you can tell this is a team that exudes confidence. The position drills are crisp and efficient. The team drills are spirited. These aren't your expansion Texans anymore. Now the goal is to prove it on the field in the fall.
"In that first year, there's a big gap between what you worked on in the off-season to what you end up becoming as a team," Capers said. "In the second year, you narrow it down a little bit. And in the third year, you pretty much know 'This is us.'
"You watch out here and every repetition is a wise investment. You know your team better, you know your capabilities and you know what you can handle. And that enables you to be a lot more efficient in your preparation."
The Texans concluded their final mini-camp Wednesday. Today's practice was the 19th of the off-season. The rookies will be in next week and plenty of veterans are staying in town to work out. But for the most part, we won't see the entire team until 43 days from now when the Texans report for training camp.
The Texans will start camp on a fast track. There will be just nine practices before the Dolphins come to Houston for a three practices and a scrimmage at Reliant Stadium. The following week the Cowboys come to town to kick off the preseason. That's why these off-season sessions have been so crucial.
"Hopefully what this has done for us is now we go into training camp knowing our personnel much better," Capers said.
On offense, the Texans won't start a rookie for their first time in their brief existence. Quarterback David Carr is getting more and more comfortable with the offense and he has plenty of weapons at his disposal, led by running back Domanick Davis and wide receiver Andre Johnson.
The primary changes to the offense are coming up front, where the Texans have employed a zone blocking scheme and have shifted some players. Second-year pro Seth Wand steps in at left tackle, moving incumbent Chester Pitts to the left guard slot. Former Dolphin Todd Wade is the new right tackle.
"I like what I've seen of the zone blocking to this point," Capers said. "But you don't really know until you get the pads on and you can really work and cut people on the back side. You just have to continue to work on getting shoulder position, footwork, hand placement and all those things."
Just two seasons removed from allowing 76 sacks, this offensive line is now deep and versatile. Pitts and right guard Zach Wiegert both have starting experience at tackle. Todd Washington and Fred Weary can spell at center or guard.
"I like what I've seen so far," Capers said. "We'll step back and evaluate it after this mini-camp. But I think right now our goal is to get our five best offensive linemen on the field. I think Chester has done well at guard and Seth has done well what with we've asked him to do at tackle."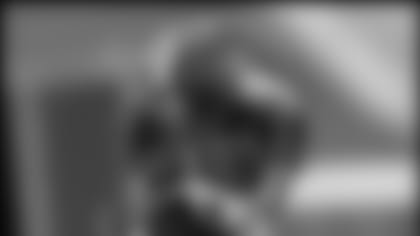 On defense, the Texans shifted right cornerback Marcus Coleman to free safety, and Coleman has made the transition look pretty easy. Coleman's move makes room for first-round pick Dunta Robinson to start at right corner.

Houston's other first-round pick, Jason Babin, is starting at right outside linebacker. Kailee Wong shifts to the left side and has even seen some time at mic linebacker this week. Jerry Deloach has moved to nose tackle in Seth Payne's absence.

Again, the Texans finally boast enough depth where they can be versatile and try different looks.
"The more you can do, the more valuable you become," Capers said. "The number of injuries we had last year, especially on the defensive side of the ball, really tested our flexibility."
And while the defense is certainly younger, Capers is excited by what he sees on the practice field.
"We have a lot of work to do considering all the changes," he said. "But the encouraging thing is the talent is there and the moves have been positive moves. The preseason will be very important because we'll have to see how everything comes together.
"I think we'll have excellent competition on both sides and that just makes you better. Guys come out and know that they have to perform."
So what to make of the Texans as they enter their third season? Houston has undoubtedly upgraded both its offense and defense. But as Capers reminds us, winning games in this day and age comes down to execution. Before they can think playoffs, the Texans need to learn how to win, and win consistently.
"There were only 14 teams with winning records last year," Capers said. "Before we do anything we have to learn to become a winner. I think we're capable. How many games we're going to win will depend on how well we take care of business and do all the little things better than the teams we're playing against. And that's a fine line. You can't ever relax.
"We've proven we can play nose-to-nose with the best teams in the league. I think we've grown. We've got a lot of work to do but I think we have more confidence. We certainly have our best chance to win."
It starts July 30. Rest up.