Wide receiver Jabar Gaffney has the answer to the question that's on everybody's mind.
"Sure, I know the difference between an alligator and a crocodile," Gaffney said Wednesday. "The crocodile has a longer nose."
His alma mater's much-publicized media guide flap aside, this former Florida Gator has been sliding neatly under the radar so far during training camp. Most of the receiving attention has been focused on first-round pick Andre Johnson. But here's a question that really should be on the minds of many Texans fans. Is Gaffney going to make 2003 his breakout season?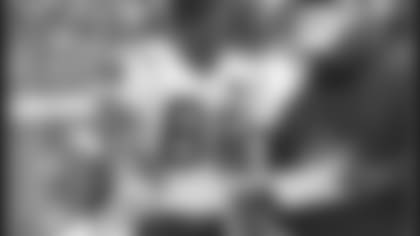 Gaffney feels more comfortable in Houston's offense as his second season approaches.
Perhaps. He's got an off-season program under his belt and has been catching nearly everything in sight in camp.
"I know what I can do," Gaffney said. "And when we go out on the field and Andre's getting all the attention, that's fine. It'll just open up other things in the offense."
Gaffney caught 41 passes last season as a rookie but you got the sense many thought it was an unproductive campaign. Maybe it's because he only had one touchdown reception. Maybe it's because the Texans had the league's 32nd-ranked offense.
But only four rookie wideouts hauled in more passes than Gaffney and wide receivers, unless you're Randy Moss, has recently been a difficult position in which to make a huge impact as a rookie.
"Most rookies that come in don't catch that many passes," Gaffney said. "Now I was expecting to catch more and hopefully this year I can."
Gaffney was essentially learning on the fly all last fall and head coach Dom Capers thinks that will help Gaffney come this season. Plus, a full off-season in the Texans' weight room can't hurt.
"You have to remember Jabar played an awful lot as a rookie." Capers said. "I think he'll really benefit from all that playing time this year."
How much playing time now becomes an issue, although it's an issue the Texans don't mind having. Houston can now boast three legitimate receiving threats in Gaffney, Johnson and Corey Bradford, who paced the team in receiving yards (45) and touchdowns (6) last season. It might be difficult to find touches for all three of them. But it will also be difficult to cover all three of them.
"Now with three wide receivers, they can't double everybody so we'll have more man-to-man matchups," Gaffney said.
Gaffney saw most of his time at the X position last season opposite Bradford. With Johnson in the mix, you might see Gaffney in the slot more. He doesn't care, as long as he's on the field and balls are thrown in his direction.
"I'm comfortable anywhere -- outside, inside, in the slot, X or Z," Gaffney said. "Last year I was stuck at X because I didn't really have a good grasp of the offense. But now I have a good feeling for it."
After Wednesday's morning practice, wide receivers coach Kippy Brown had his receivers stay on the field for a quick red zone drill. The receivers were matched up against a corner at the 10-yard line but they couldn't take off until after quarterback Dave Ragone lobbed the ball in the air.
After about five minutes, Brown wanted to end the drill on a good note. He matched Gaffney against Aaron Glenn. Glenn matched Gaffney step for step but Ragone lobbed a beauty that Gaffney snared with his outstretched fingers.
Drill over. Gaffney grinned and took off his helmet. Just another solid day of practice that could pay off come September.
"I've definitely improved," he said. "I'm starting to get things, learning the system.
         "I
         just feel comfortable."