Yes, David Carr is zipping the ball downfield with ease. Yes, Andre Johnson and Corey Bradford are catching the ball in stride. Yes, the Texans' offense appears to be humming as we approach the end of the team's off-season work.
But in the issue of fairness, we interrupt this offensive lovefest to bring in a dissenting view.
"David's got so comfortable on offense and the receivers have gotten so much better he's taking away a lot of my balls right now," tight end Billy Miller said Tuesday. "They're completing a lot of stuff downfield. I'm protesting David Carr getting better."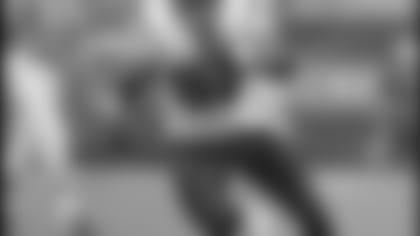 Miller is joking...kind of. He'd just like to remind everybody that he's still here in Houston. While the Texans' young triplets -- Carr, Johnson and running back Domanick Davis -- are getting most of the ink, Miller is just going about his business. Remember, Troy wasn't always throwing to Michael or handing off to Emmitt. Tight end Jay Novacek caught a pass or two. And Miller has caught 91 of them over the past two seasons, more than any other Texan.
"Billy has proven that he's an excellent pass receiver," head coach Dom Capers said. "He's made a number of big plays for us. Billy is a good matchup for us against most of the linebackers we play against."

So why is Miller flying under the proverbial radar? Sure, the tight ends are bridesmaids in the public eye compared to the receivers streaking downfield. But Miller makes plays, has since the third snap of the Texans' first game. He's still a key component to this evolving offense.

And now the Texans are no doubt deeper at tight end as they enter their third season. Houston signed veteran Mark Bruener in March and 2003 second-round pick Bennie Joppru has returned from the groin injury that sidelined him last year. Jabari Holloway and Matt Murphy also return.

"I think we've got a plethora of good tight ends," Miller said. "I think that everybody brings a little something different to the table. I think it's great they brought Bruener in. Mark has taught me some things that have helped me become a better tight end."
Miller has always been a good receiver, dating back to his USC days, where he caught 125 passes as a wideout and learned to use words like "plethora." Bruener has always been one of the more physical players at his position. It could add up to some nice versatility at tight end for the Texans.
"My asset is no secret -- running down the field and catching balls," Miller said. "Bruener has been known throughout his career as a good blocker. You put those two together, I think it'll be great.
"I expect them to put the best 11 on the field. Whether that's one tight end on the field for 60 plays or two tight ends on the field or if we have to find a way to get three on the field."
Regardless, it's clear that this offense is more polished. And no one's more excited than Miller, who's been going full tilt since coaching sessions kicked off last month.
"We aren't starting any rookies," Miller said. "So everybody is more comfortable with the offense. We should be at more of a rapid pace than a teaching pace once training camp rolls around. David's arm looks phenomenal and he's making great reads."
Expect plenty of those reads to end with Miller once again in 2004. After spending the 2001 season out of the league, Miller has flourished in Houston. He will continue to make catches, turn linebackers around and move the chains. And he'll continue to order Joppru around.
"Hey, he's still a rookie," Miller said. "Until he gets three games under his belt, he'll still be carrying my helmet."