We're assuming you haven't been living in a cave these past few years and you know that the Texans and Titans have a little history between them.
But that's mostly off the field. This Sunday in Nashville, the two teams will share something on the field. And the team that reacts better to the issue could well determine the outcome of the game.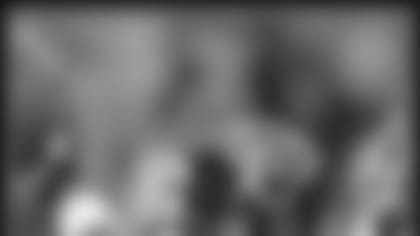 Both Houston and Tennessee will be without the services of their most decorated cornerbacks. Aaron Glenn is out with a hamstring injury and fellow Pro Bowler Samari Rolle is sidelined three to six weeks with an elbow injury. The question lingers: How will the two offenses' young receivers respond?
It's not often that a rookie creates a mismatch in the NFL, but you'd have to favor wide receiver Andre Johnson in his expected matchup with Titans second-year corner Tony Beckham. Johnson leads the Texans with 26 receptions for 346 yards and has delivered all the promise that comes with being a first-round pick. He hasn't found too much trouble getting open through four weeks and when he does come down with the ball, best of luck trying to wrestle Johnson down.
The Texans would be well advised to get Johnson the ball in space, especially considering nearly 47 percent of the passing yards Tennessee has allowed are yards after the catch.
Beckham has seven tackles in five games after seeing action on special teams and in dime packages as a rookie last season. The Titans could also work in rookie Andre Woolfolk. Expect Tennessee free safety Lance Schulters to cheat a little bit towards Johnson's side in hopes of providing either corner some help.
"They obviously have tremendous confidence in both Beckham and Woolfolk," offensive coordinator Chris Palmer said. "They are two good football players who have contributed to the success of their defense. It's like any other team. When guys get hurt, other guys have to step and these two are very capable."
The Titans rank a respectable 17th in pass defense, although their scheme does put their corners in plenty of one-on-one situations. But Rolle's injury doesn't necessarily mean the Texans will be looking at Beckham and Woolfolk all day long.
"I think that's a myth," Palmer said. "Everybody wants to play but you can only play 11 at a time. I'm sure these two corners will accept the challenge and play very well."
And speaking of corners stepping in and playing well in place of a starter, cornerback Kenny Wright will most likely make his first start since 2001 in place of Glenn at the left corner slot. Wright certainly earned his keep when he subbed for Glenn in Houston's win over Jacksonville, picking off Jaguars quarterback Byron Leftwich twice.
"Kenny's had a good week of practice," defensive backs coach Jon Hoke said. "We expect him to play well. He has been a starter in this league so it's not a new thing to him."
Wright is expected to line up opposite Titans wide receiver Drew Bennett, who has 13 catches for 198 yards and two touchdowns in his third season. Backup wideout Justin McCareins is also getting more touches in his third season, hauling in 17 passes for 259 yards and two scores.
Regardless of which receiver he encounters, Wright has renewed confidence, especially in his hands, something he consciously worked on in the off-season.
"In my career, I'd either knock the ball down or sometimes I'd drop passes," Wright said. "This off-season I just wanted to concentrate on catching the ball more and that's what I've been doing."
In fact, Wright's performance against Jacksonville only serves to remind quarterback David Carr that, no matter which defensive back you might attack, your throws better be accurate.
         "The
         Jaguars tried to do that to us when Aaron went out and Kenny played
         pretty well," Carr said. "You can't underestimate a
         professional athlete. Whoever they put in there is going to play
         well. We just have to play like we regularly play and not worry
         about who's out and who's not out."