---
EDITOR'S NOTE:** Texans fan Alan J. Burge continues to write his "Voice of the Fan" column for HoustonTexans.com. His latest installment is below. Alan's views do not necessarily reflect the views of the organization.
**The first weekend of Texans Training Camp 2006 is in the books, and players and fans can now expect to start feeling the 'routine' as we press toward our first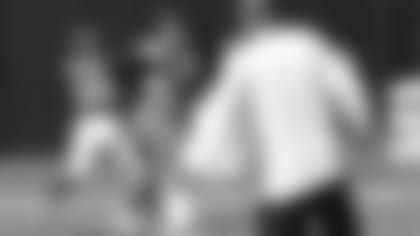 preseason game at Reliant Stadium in less than two weeks.
For fans that weren't able to get training camp tickets, the preseason opener against the Chiefs will be a great way to start getting familiar with our new team.  And yes, it's new from top to bottom.
Something else that was new to Texans fans during Saturday and Sunday public practices was that the team trained mainly on the fields at the back of the practice facility (Fields 2 and 3), which made viewing very difficult for fans, who like in previous years had assembled in the bleachers adjacent to the easternmost field along Kirby Drive (Field 1).
The justification is that the Texans are concerned about tearing up one of their practice fields while others stand idle or have lighter use, so they rotate.
As a workaround on Saturday and Sunday, fans who were willing to wait were escorted to the track area surrounding Fields 2 and 3 to watch the last 30 minutes of the two-hour practice. That gave many fans a much desired close-up look at the action, but it was difficult for everyone to see unless they were tall or standing in front.
The good news is that there is a fix.  In the future, fans will be brought closer to the action when the team is practicing away from the stands. Also, the team is exploring adding more stands closer to Fields 2 and 3, but that might not happen in time for this training camp.
As far as the weekend wrap, those who came out to the training facility were treated to another beautiful sunny, cool and dry summer day in Houston, Texas. Yeah, right.
Yes, it was steamy once again, but at least now the players and coaches know what to expect and they can pace themselves and prepare accordingly.
I haven't seen so many coolers of water, ice, Gatorade, etc. in one place since …well…ever.  And the players take full advantage of it during frequent breaks.
Defensive line coach Bob Karmelowicz (let's call him Coach K for now – not to be confused with the other Coach K) was once again worth the price of admission – even if it was free.
Coach K was teaching his tail off today, inspiring his defensive linemen with words of wisdom and encouragement between rants about poorly executed technique.
"Every time you put your hand on the ground, you sign your name," shouted Coach K, in an effort to drive home the importance that every play counts.  "What do you want your peers around the league to say about you when you're not around?" Coach K told his players as they drilled in the heat and the sweat.
One player in particular caught the ire of Coach K for not keeping his head up during a one-on-one "defeat the O-lineman" drill.
"What the heck are you looking at the ground for, there's nothing down there," Coach K screamed.  "Keep your head up!"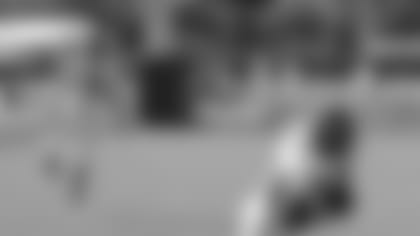 During drills, Coach K often uses a cadence to simulate a snap count, but he also uses his foot to simulate an offensive lineman coming out of his stance at the snap.  Sometimes he'll use both.  I'm glad I wasn't the player who jumped early when Coach K threw a cadence shift at him unexpectedly while keeping his foot firmly in place.
Yes, this is what goes on at camp, but little things become big things and repetition becomes habit, good or bad.  It's obvious Coach K wants his guys to be the best in the league.
It seemed like an entirely new dynamic out there on Sunday morning as the team came out in full pads for the first time at a morning session.  It was exciting and it was good to hear the pads cracking.
I knew there was something missing during Friday's and Saturday's practices when the team worked in shells (helmets and shorts).  Seeing the guys going all out against each other in pads made me think it was September already.
The only downer of the weekend was the injury to starting cornerback Demarcus Faggins, who fractured a bone in his foot and will be out for at least 6-8 weeks.  Linebacker Wali Rainer had to be carted off on Sunday morning, and that's really a shame since Wali had asserted himself as a vocal leader of the linebacker corps.
The hallmark of camp so far has to be defensive coordinator Richard Smith's aggressive unit.  Texans fans will see a defensive front seven that will attack more than ever this year.  While that's an exciting prospect, that strategy will also put a lot of pressure on the defensive backs.  Don't be surprised if you see a lot of Cover 2 from the Texans this year to reduce the risk of getting beat deep.
The most exciting part of practice, at least from a fan perspective, is when both units square off against each other.  During 11-on-11, you really get to see how the team is shaping up.  The only problem is that when the defense does something good, it means the offense probably didn't, and vice versa.
The team also practices 9-on-9 (no corners on defense) and 7-on-7, which pits LBs and DBs against the QB, WRs TEs and FB.
At receiver, Andre Johnson looks as dominating as ever.  Don't be surprised if you see Andre working out of the slot this year, with Eric Moulds split wide to the same side.
That said, cornerback Phillip Buchanon looked good today in his reclaimed starting role on several coverages against Johnson and Moulds.
Tight end Owen Daniels showed nice extension on a diving catch over the middle during 7-on-7 drills.
The player quote of the day goes to tight end Mark Bruener.  In 7-on-7's, Mark took a short pass over the middle, turned and was immediately hit hard by a linebacker. But he stayed on his feet, spun and turned downfield and immediately took another shot by a cornerback.  Finally, as he was running it out, a safety came over and gave him yet another shot.  Bruener would probably argue that he was really the one doling out the punishment since after the play he was overheard saying to defensive backs coach Jon Hoke "did I get 'em all Jon?"
The offensive line will continue to get a lot of attention until they prove they can protect the quarterback.  You will see a lot of short passes to the tight ends, wide receivers, and even fullbacks to help quarterback David Carr avoid the rush.  Assistant head coach Mike Sherman was paying particular attention to left tackles Seth Wand and Charles Spencer today.  Sherman is a perfectionist, and it's obvious he will not settle for mistakes or poor play, as Wand and Spencer both found out at times.[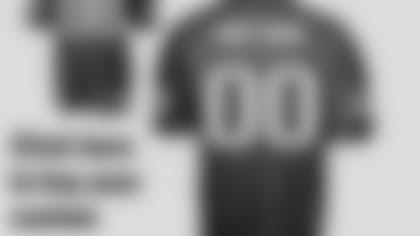 ](http://store.houstontexans.com/product/index.jsp?productId=1862013&cp=2237490&clickid=mainnavgeartxt&parentPage=family)
There was also a little more special teams work today.  The full field goal units (offense and defense) worked for several minutes as Kris Brown kicked balls through the uprights and off the scissor-lift camera station positioned at the end of the field.
As far as players to watch, keep watching rookie running back Chris Taylor.  He continues to impress and make people wonder why he wasn't drafted.
Cornerback John Walker is also getting the good kind of attention from Hoke and Smith.
With Faggins out, veteran cornerback Dexter McCleon made his Texans debut wearing No. 20. Dexter worked in a lot of man coverages against rookie wide receiver David Anderson and other backup wideouts. Not seeing much action since early last season, McCleon will need time to shake off the rust, but he appears to be in good shape.
And finally, Camp Kubiak appears to be fairly mild in terms of rookie initiations.  But there are the usual suspects.  As offensive guard Steve McKinney walked off the practice field, he looked back and yelled "Hey Winston, go get my helmet."
Good rookie that he is, Eric Winston dutifully trotted across the field and added McKinney's helmet to his handful and proceeded to head back to the locker room.