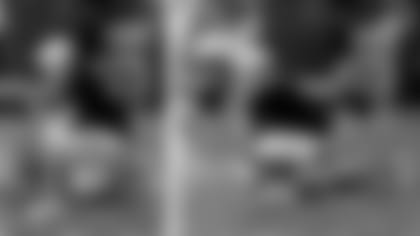 ]( "Texans DE J.J. Watt")

J.J. Watt made a strong case for the NFL Defensive Player of the Year award with his standout performance in 2012. He also has made quite a push for the title of "nicest guy in the league."
On Tuesday, Watt discovered a YouTube video of a 6-year-old girl crying because she wanted to marry him but couldn't because of their age difference. The distraught little girl, Breanna, expressed how she wished she were 25 so she could marry the 23-year-old Watt.
"Does anyone happen to know this cute little girl? We have to find her and turn those tears into a smile," Watt posted on Twitter with a link to the video.
Watt connected with Breanna's family through Facebook and met her at Reliant Stadium. There, he proceeded to get down on one knee and ask her to be his 'pretend wife' for the day. He later tweeted the news and photos of the faux engagement and thanked his followers for their help in finding Breanna.
That was far from the only spur-of-the-moment act of kindness by Watt in recent months. On Christmas Eve, Watt spent several hours delivering gifts to kids at a local children's hospital. On Christmas day, he showed up unannounced at several Houston fire stations and the Bellaire Police Department to thank them for their service and spread Christmas cheer. He then delivered a pair of his game-worn, autographed cleats to Maria Barron, a random fan who had tweeted about how she was sad all his jerseys were sold out.
"Something so small as J.J. following me on Twitter meant a lot to me, so words cannot explain how thankful we were to have such an amazing athlete visit us on Christmas day," Barron told HoustonTexans.com in December. "It was a true Christmas miracle."
As if that wasn't enough, Watt also spent his first day of the offseason surprising the Berry children at school. The parents of the three children were killed in a tragic auto accident on July 2, 2011, and Watt has befriended the kids and become a "big brother" figure, even accompanying them to a Justin Bieber concert in October.
The announcement for NFL Defensive Player of the Year is Saturday night in New Orleans. Watt is the runaway favorite to claim that honor. In the court of public opinion, he's already a winner for his acts off the field.