---
EDITOR'S NOTE: Jacob Green was drafted in the first round (10 th overall) by the Seattle Seahawks in the 1980 NFL Draft. The defensive end from Texas A&M played 13 seasons in the NFL, reaching the Pro Bowl twice. He finished his career playing in a Seahawks-record 218 games and finished with a club-record 116.0 sacks.
I know what it feels like to be a first-round draft pick with big expectations, and be drafted by a team that's counting on you to produce. I was the first player Seattle picked in the 1980 draft and, to be honest, I didn't expect to go to the Seahawks. From all indications, I thought I was going somewhere else. It was a nice surprise to get that call to head on to Washington.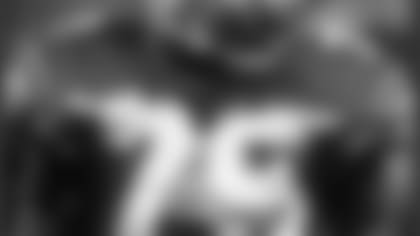 In any case, my head coach, Jack Patera, told me after I was selected that they needed a pass rusher and they drafted me specifically for that reason. From that point on, I knew I was the guy that they wanted. When I came in and they made me their number-one pick, I knew what I was coming in there for, and that was to start immediately and make a big impact. There was no question about that. I had the starting job, it was my job to lose, which I never did.
A lot of people asked me—as I'm sure they've asked you—if I felt any pressure on myself to perform. Honestly, I didn't look at it as pressure, I looked at it as a challenge, and I knew I could do it. I had confidence that I could play the game and I didn't have any questions about my ability to play football. That's important. Never doubt yourself.
I didn't know what to expect my first year. The one thing I did know was that I wanted to come in and be a leader. I wanted to be a difference-maker, like all rookies. I didn't take anything away from anybody else, and I certainly respected the veterans and my other teammates, but I had every intention of making my presence felt.
My advice to you is to maintain the confidence you had in college by playing loose and playing like you're the number-one draft pick. Go out there and play the game as hard as you can and give it all you've got every down, and you won't have any problems.
Don't worry about who was supposed to be the first draft pick. You were the number-one choice for a reason, so go out and set the tempo. Show everyone that you're worthy of being the top guy. Whatever you do, people are going to focus on you, so prove to them on the field the type of player you are and they'll forget about all the periphery stuff.
As far as what to expect between the lines, I think the biggest difference between the pros and college is that there are a lot more blocking schemes in the NFL. Also, as I'm sure you now realize, guys are going to be a little more up to your speed talent-wise. Every guy you face will be pretty good, and they'll be gunning for you because you are the top pick.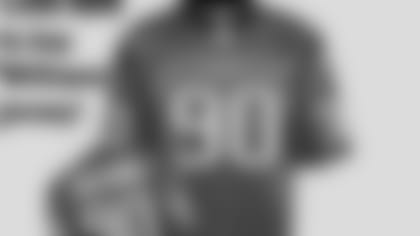 ](http://store.houstontexans.com/product/index.jsp?productId=2273850&cp=2237490&clickid=mainnavgeartxt&parentPage=family)
My advice is to never hold anything back and prepare in the meeting rooms so that you're ready when teams throw different looks at you. You'll find out that teams will go to great lengths to disrupt your rhythm and throw off your game. The more you study, the better off you'll be.
Off the field, you'll also have a target on your chest. Be smart, keep your nose clean and make sure you hang around with the right crowd. The fewer distractions you have away from the field, the better you'll feel on it. In today's age, there are so many people that want to use NFL players, and guys will try to catch you at a weak moment. Make sure you're aware and continue to do the things that have made you successful. Keep your family close to you and you'll be all right.
That formula paid dividends for me, and I have no doubt it will work for you.