When you're smiling the whole world smiles with you.
Even with the heat and mental beatings Texans wide receiver Kendrick Starling has had to deal with, he still manages to smile. Of course, it's easier when it's a part of your personality.
Starling's self described "happy-go-lucky" attitude may disappear for brief moments on the practice field, replaced by a more serious façade. But the moment the helmet comes off, the teeth come out.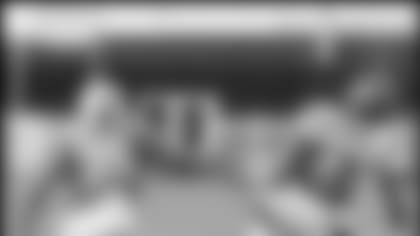 He is the type of guy that is happy to be here and ready to make the most of a situation. He's the type of guy that wears sunglasses in his college media guide's official photo.
"Back then the glasses were just a little style point," Starling said of his unorthodox appearance.
In reality he had a reason to wear the shades. Sure, it has been years since he had problems with light sensitivity. Obviously the photographer didn't know that.
The stunt didn't stop Texans coaches for taking a chance on Starling, who was listed in some publications as one of the 2004 draft's "sleepers."
But he didn't get drafted.
"It hit me a little bit, but I just wanted to get into camp," Starling said. "I got a chance with the Houston Texans and I'm going to make the best of it."
Making the best hasn't always been easy. Playbooks at Texans camp look more like slabs of black concrete. He is learning though.
"Emotionally I feel good, physically I feel good," Starling said. "Mentally there are some little things I have to work on. Coming in here learning the offense and everything around me, I'm trying to figure out what to do with it.
"Guys are going to come at you every which way. They're going to try and play mind games – defensive games. Everything's a scheme."
He sees the amount of veterans as a blessing, but he insists he's not star struck.
"I knew I was going to be at this level playing with them pretty soon," Starling said. "All the guys are great guys. I've been watching them since I was young."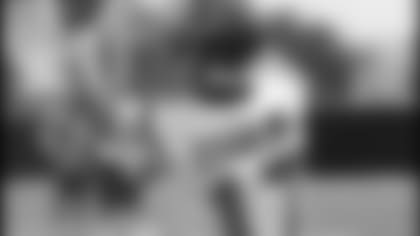 Starling, who caught 77 passes for 899 yards and five touchdowns in 23 games at San Jose State, has been working out on special teams as well. He returned 36 kicks for a 23.8-yard average in college.
Texans wide receivers coach Kippy Brown said Starling has a promising future.
"I think Kendrick's very talented athletically," Brown said. "He's got speed quickness; he's really got good hands and athletic ability. I see that as his strengths.
"He's a terrific guy. He really tries hard and wants to learn. Anytime you learn a new system you're going to go through some growing pains until you understand what we're trying to get done. That's what he's going through right now. The exciting thing is everyday he learns a little bit more and get s a little bit better and gets a little bit more comfortable."
Starling has definitely grown more comfortable with his surroundings than he was the first day of camp. Of course, a smile never hurts anybody.
"I'm fun to be with," Starling said. "I smile all the time."