There might be no more telling moment for the Houston Texans than the play that came with 1:40 remaining, fourth-and-one at the Houston 41 and the Texans leading 13-10 at Jacksonville last week.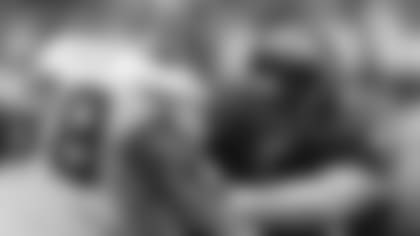 Texans coach Gary Kubiak decided his team was right to want to go for the yard that could assure they would run out the clock. Surprisingly, Kubiak also decided to run behind little-used rookie tackle Eric Winston, only in the game because starter Zach Wiegert had gone out with an injury just moments earlier.
"You can't ask for anything more than that," Winston says of that seminal moment. "If you're playing football for a living, or even if you're not. Any time you're keeping score, you can't ask for anything better, especially at an offensive line position.
"You want your chance to go out there and help the team and there's no more critical situation than fourth-and-one basically to win the game. To get that chance is a special chance."
Never mind that Winston, the third-round pick from Miami, had been inactive the first four games of this season and only played sparingly the previous three weeks against the Jaguars, Titans and Giants.
Now was his turn to shine. It seemed like a meaningful decision to run behind Winston.
"Probably not," Winston deadpanned this week. "We just don't run the play the other way. We only take it right. But they could have taken it the other way and I don't know if maybe they didn't realize I was in there still."
It was self-deprecating humor that Winston used to play down his role on this team. The truth, however, is that Samkon Gado picked up that critical yard and this week, Winston will make his first NFL start against the Bills on Sunday.
And it wasn't lost on Kubiak.
"Well, it kind of tells you that they are coming together," Kubiak said of that key play. "It makes you feel good as a coach because the key to our team is that guys grow together and young guys step up and play.
"To go right behind Eric and (tight end) Jeb (Putzier) was right there, and (tackle) Fred (Weary), for them to make that play says a lot."
Winston, a down-to-earth guy from the West Texas football town of Midland, tried to play down the huge moment.
"Fred is a great run blocker," Winston said. "He's a great player and I was in and I did what I needed to do. Me and Fred got that guy moved and Fred got off on the backer and we jammed it up in there where we needed it."
That play and Winston's subsequent rise to starting status has much attention swirling around the 6-7, 310-pounder this week. The fact remains that the Texans, without Wiegert the rest of the season, are now counting heavily on Winston.
"It's a tremendous challenge for him and it's interesting because you're sitting there, you're a young kid and it's one thing to say you're going to get a chance to play, but now he's staring at seven weeks of full-time duty," Kubiak said Wednesday. "So I'm sure he has some butterflies right now, but he practiced well today."
Winston won't admit to butterflies, but he is aware of the mounting pressure of his new role.
"It's a little different," he said. "The first start I ever got was at tight end in college. I had to know all my (pass) routes and be focused on that. But it feels like some of the same things.
"Fortunately, I've been out there and had some reps, especially the last four weeks. I've gotten out there a lot. I think that's going to help me a lot and just going out there knowing I can do it. I've done it all year in practice, so there's no reason I can't now."
Winston accomplished little in practice his first few weeks. But he feels his progress has accelerated in the last month.
"Leaps and bounds," Winston said. "It's amazing. When you look back four games ago and the start of the season and the start of training camp, I think I've come a long way. I think I've progressed well and put myself in a good position to go out there and play well. Now I've just got to go out there and do it."
Winston knows this is completely different than college but he has learned rapidly in this short season.
"I think everything has really risen to a good level," he said of his progress. "But mostly my hands. I kind of really relied on my feet in college and relied on my athleticism to get by and block people.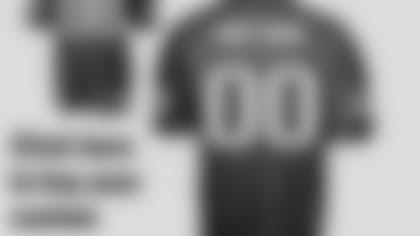 ](http://store.houstontexans.com/product/index.jsp?productId=1865446&cp=2237490&clickid=mainnavgeartxt&parentPage=family)"But here in the pros, everyone's athletic. Everyone's really good and you've got to be able to use your hands well. Coach (Mike) Sherman and (offensive line) coach (John) Benton have just been harping on me, and I think I've come a long way."
Help from teammates like Ephraim Salaam has been a big part of that progress.
"Ephraim's done a great job," Winston said. "He's been a guy that even from the beginning, I really asked him a lot of questions and Wiegert and those guys are still there.
"It's been nice having those guys to talk to and ask questions about and they've helped me every way they can. But there's a time you've just got to be able to go out and do it. It's on me to do it and there's no one else who can help you when you're out on the field."
Winston has a certain amount of fatalism about his rise to being an NFL starter. He believes this is not just an accident in time.
"I think everything happens for a reason," he said. "I think some of the struggles I had earlier were for a reason. I think it's helped me grow into what I'm doing now. I really think I am so much better than I was four weeks ago.
"I think I've progressed every week and now I think it happened that way for a reason. Now it's time for me to step up and play. I'm just going to go out there and do everything I need to do to help the team win."
Still, he's not predicting instant stardom. In fact, Winston expects things to start slowly, if not worse.
"I remember when I started playing tackle when I was a sophomore in college," he said. "The first three plays were always the worst. I would look like I never played football before, then all of a sudden it was a just like it was the same old stuff.
"Hopefully, it won't take three plays to start it off. But I know there's going to be some bad plays and there's going to be some good plays. The big thing is just keep fighting, keep playing hard and keep getting the guys blocked and everything will work out."
And keep hoping for fourth-and-one plays to win the game.
EDITOR'S NOTE:Jim Carley is a veteran Houston sportswriter who has covered the NFL for more than 25 years. He has worked for such newspapers as the Fort Worth Star-Telegram, The Houston Post, the Los Angeles Herald-Examiner and the National Sports Daily covering such teams as the Dallas Cowboys, the Houston Oilers, the Los Angeles Rams and the Oakland Raiders.