At this time last year, it was easy to overlook C.C. Brown. As a relatively unknown sixth-round draft pick from Louisiana-Lafayette, the unassuming rookie commanded little attention.
That quickly changed once he got on the field. With little promise of making the 53-man roster, Brown quickly ascended the Texans' depth chart in training camp while drawing rave reviews with his fearless playing style and tenacity.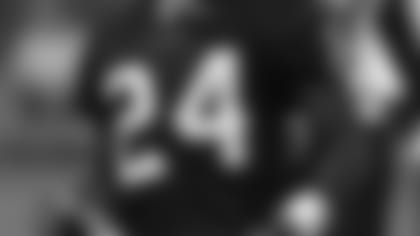 He ended up starting 13 of 16 games at free safety and led the secondary with 102 tackles, adding one interception, four passes defensed and one forced fumble to his stat line.
Yet Brown continues to work like he's fighting for playing time, which is one of the reasons why he's been so impressive.
It's not really mine, I wouldn't say," Brown said of the starting free safety spot. "It's still open on the table. The only thing I can do is work hard and try to maintain it."
According to veteran Jason Simmons, Brown has shown every indication that the job is his.
"To tell you the truth, C.C. doesn't look like a second-year player," Simmons said during the team's first mini-camp. "It's my ninth year in the league, and it's just like his ninth year. The guy doesn't get rattled by anything. He's just a really poised player. He's the quarterback of our defense. He runs the defense back there. Everybody has so much respect for him."
One of the areas of Brown's game that he spent the most time on the past few months has been his pass coverage. Breaking down film and learning from some of the mistakes he made last year should help him in 2006, when the Texans face six of the NFL's top-11 passing offenses from a year ago.
"I feel a lot more comfortable," Brown said. "I think my passing game has picked up a lot. I'm able to recognize route combinations and things like that much better."
Aside from Brown's increased awareness on passing downs, Simmons sees the most improvement in Brown's consistency.
"Whenever you're a young player, there are always flashes," Simmons said. "You can be like, 'OK, wow this guy, if he could do it every time…' Now, it's gotten to the point where (C.C.) does it every play."
The new 4-3 defense doesn't affect the secondary as much as the front-seven, but Brown likes what he's seen of the new attack so far, particularly in long-distance situations.
"It helps us out a lot," Brown said earlier this offseason. "We get four-man pressure now. We get more pressure on the quarterback to make bad throws so we can try to help out with turnovers.
"Everyone out there is hungry and everyone is just trying to cause some type of disruption, a pass breakup, interception or something to help out."
Entering training camp, Brown will line up alongside strong safety Glenn Earl. The two heavy-hitters share only three years of NFL experience, but showed to be more than capable of handling the middle of the field in their brief time starting together at the end of last season.
"We have gotten to know each other better," Brown said. "It feels like we went to college and high school together."
With Brown's continued growth, and his budding chemistry with Earl, the spotlight figures to shine on the former small-school star much more this coming season.
Just don't expect Brown to change his approach.
"I feel like I know more now," Brown said. "But it's still like my rookie year until my third game."