Detroit wide receiver Charles Rogers could not wait to welcome the NFL to his neighborhood, but a broken collarbone in 2003 kept him from making a significant impact for his hometown fans.

The Lions' highly touted first round pick from 2003 made an impact in Week One however in Chicago. Unfortunately this one re-fractured his collarbone.
Now it's Mr. Williams' neighborhood. That is, it's Roy Williams chance to shine.
The Lions stress the loss of Rogers will not vastly affect the team's passing game heading into Sunday's match up against the Texans. They have quality depth.
Tai Streets started three playoff games with San Francisco before signing with the lions in the off season. He brings more than 2,000 career receiving yards and 13 touchdowns. Az-Zahir Hakim, who was also signed in the off season, played in seven post season games with the St. Louis Rams.
"They've got three very good receivers even without Charlie Rogers," Texans head coach Dom Capers said. "Az-Zahir Hakim has been a very productive guy. He's an excellent slot receiver and Tai Streets has been a very productive guy in the league. Of course Roy, we all know what kind of talent he has. He played very well in his first game last week. You combine him with (Joey) Harrington and (Kevin) Jones and they're a young, talented football team."
Most eyes have flopped toward Williams, the Lions first-round draft choice whose physical attributes make him hard to miss. He is 6-feet-3 with a 215 pound frame. He's fast, but one of his best moves is when he simply pushes the defender out of his way coming off the line of scrimmage.
With that, Detroit's offense doesn't present the easiest of matchups for the Texans secondary.
Williams left Texas with a school-record 241 catches for 3,866 yards and 36 touchdowns. He had 4 catches for 69 yards against the Bears, including a leaping one-handed grab that earned him instant credibility.
At least it got him noticed on TV.
The Texans feel they can match up to his physical style of play, even if with the league's emphasis on contact penalties past the line of scrimmage.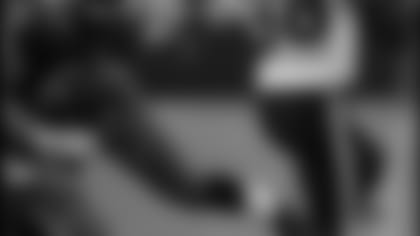 "I think if we're going to go up and press him like that, we need to put hands on him the first couple of yards and then stay over the top of him playing man," cornerback Demarcus Faggins said. "Then we just need to use our feet and play like we know how to play."
Faggins added it may be more difficult to read Williams than a veteran receiver. Williams only played about 60 snaps in the preseason and could still have moves that haven't found their way to film.
But the Lions offense should change little with the injury to Rogers.
"You'll see a couple different things from what the Lions do," said Texans defensive backs coach Jon Hoke. "They're based on the west coast offense so everything's based on timing routes."
Hoke said the Lions will adjust routes to throw off the defense. For example, changing a slant to a "slant and go" to trip up a defensive back ready for the slant.
Texans defensive backs said they are ready for the challenge and have prepared for the Lions threats. Capers said the defense will include a mix of designed one-on-one match ups between receiver and cornerback and schemes where a corner is asked to defend specific areas of the field.
That means anyone could draw the assignment on Williams, including Aaron Glenn and rookie cornerback Dunta Robinson who had his share of good and bad plays against the Chargers.
"Well, we feel we have a good secondary and they have good receivers," Robinson said. "We feel we can match up. We don't need to have any special match ups, just allow the guys to go out there and play the way we're capable of playing.
"I made a lot of plays but I've given up some big plays, so I just want to try to eliminate those big plays."