For David Carr, it was a special moment. He approached the huge rookie tackle whom many think is a big angry beast and relayed some gentle words.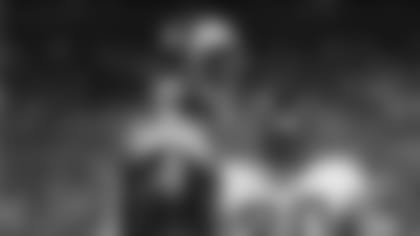 "What's nice about this offense and the way coach (Gary) Kubiak has set it up, is it's not really all on just them," Carr said of his talk with the 6-4, 337-pound Spencer who will be one of five rookies starting for the Texans against Philadelphia on Sunday. "It's not really all on just me. There's 10 other guys out there to help you and that's what I was telling Spencer today. You don't have to do it all by yourself. Just don't screw up and you'll be all right.
"I don't know if he needed to hear that or not. I know I liked to hear stuff like that when I was a rookie. I think he's so quiet that people just assume that he's quiet and he's large so he's therefore angry. But I don't think he's that angry. We spent some time together and he gave me a hug afterwards."
Spencer, the gentle giant, said he needed that talk.
"Any advice David can give me will help because he's been in this league a couple of years," Spencer said. "Any advice he gives, I'll take it and soak it up."
In fact, Spencer isn't above listening to any veteran player.
"I'm learning from all the veterans," he said. "They've played this game a long time and can help me by telling me about defensive stances and tendencies and things like that that I'm still learning."
It is that kind of attitude that the Texans' young rookie starters, including Spencer, running back Wali Lundy, tight end Owen Daniels, linebacker DeMeco Ryans and No. 1 overall pick defensive end Mario Williams, all seem to have taken. They are humbled but not afraid. They are willing to listen, but ready to go.
"I think in general we just have a really young team," Daniels said. "We picked up some good young players who have stepped up and done a good job during camp and it just goes to show the coaches aren't afraid to play the best at each position. I think that's the best thing for our team.
"The speed of the game generally is faster and just mentally having to think a little faster and know what's going on is tougher. But I think I've got a handle on it. There's definitely some improvement to do, but I've got a pretty good feel for the offense and I don't think coach would put me out there if he didn't think I was ready to go."
Most of the rookies admit there are butterflies starting to gather even during mid-week of these opening-game preparations.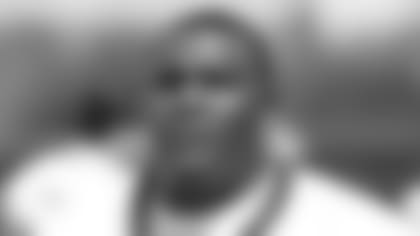 "I had a little bit yesterday, but they calmed down once we got through practice," Daniels said. "I'm sure there will be some there Saturday and definitely Sunday."
"I'm still in the preparing mode," Lundy said. "I'm sure the butterflies will come, but for right now it's still mental, still preparing.
"I think if you're any player in this league, your first start you're going to have butterflies. It's just the emotion and being excited about it and once the butterflies go, you can get into your game and start playing."
Williams, however, is one player who doesn't expect butterflies.
"Obviously, I will be excited," Williams said. "But I'm not really nervous about messing up or anything like that. I'm just going to try to do what I can to help the team."
The veterans understand what the first-year players are experiencing. Guard Steve McKinney chuckled when he recalled what it's like to be a rookie in the NFL.
"There will be times you'll be out there and your head will be spinning a little bit," he said. "It's one of those things where they just have to practice hard this week and try to go full speed so when you get out in the game, the tempo doesn't surprise you. That's really the best thing you can do."
But linebacker Shantee Orr knows the rookies can handle the pressure.
"The biggest thing is just calming down," Orr said. "Other than the speed, it's what they've been playing their whole lives. I mean, football is football. And you've seen them out there on the field, those guys have done a great job adjusting and making plays. It'll be another game for them. Obviously, they've already have grown accustomed to the speed, so I think they'll do a good job."
Wide receiver Andre Johnson subscribes to that same football-is-football theory.
"When I look back to my rookie year, the way I looked at it was, I have been playing football since I was six years old," Johnson said. "Nothing has really changed. You're just going up another level, just like from little league to high school to college.
"Now they are up on another level. They played preseason and now the real bullets are flying. These are the games that count. Just go out there and play hard and don't worry about making mistakes. Just go out there and play."[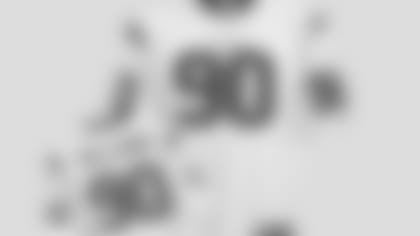 ](http://store.houstontexans.com/product/index.jsp?productId=2273849&cp=2478206.2478232&parentPage=family)
Still, veteran center Mike Flanagan knows the rookies will be in a learning mode. But he likes the ability he has seen in players like Spencer.
"I'm sure it'll still be an eye-opener the first time he sees a 275-pounder running a 4.4 around that corner," Flanagan said. "It'll be interesting, but the kid has a lot of talent. He's probably the most talented guy we have on the line. It's just a matter of putting it all together."
Perhaps Ryans had the best approach when asked about starting as a rookie.
"It hasn't sunk in yet," Ryans said. "I'm just going out and playing and having fun."
EDITOR'S NOTE:Jim Carley is a veteran Houston sportswriter who has covered the NFL for more than 25 years. He has worked for such newspapers as the Fort Worth Star-Telegram, The Houston Post, the Los Angeles Herald-Examiner and the National Sports Daily covering such teams as the Dallas Cowboys, the Houston Oilers, the Los Angeles Rams and the Oakland Raiders.