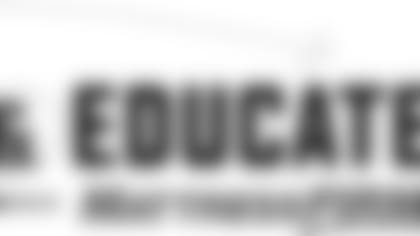 The day following the Texans playoff loss to the Kansas City Chiefs in January 2016, it was time to clean out lockers and prepare for the offseason. As is customary for every NFL team on check out day, the players got one finally opportunity meet with the assembled media. The media wanted to hear from one player, in particular, that didn't play in that game - Jadeveon Clowney. The second year defender was injured late in the 2015 season and missed the playoff game.  So, after injuries had plagued him and truly derailed the first two years of his career, Clowney was asked about the future.
"I'm going to come back and dominate the league. I know what I can do. I think I'm going to come back and dominate the league next year."
Fast forward two years later and it's clear that when Clowney sets his mind on a goal, he's going to accomplish it. For the past two seasons there may not be, nor has there been, a more dominant force on the defensive side of the ball in the NFL than Clowney. Though some snickered and scoffed at his words that Sunday afternoon a year and a half ago, he was absolutely 1000% correct. He's dominating the league every time he steps on the field. Why? He's improved every facet of his game and does something nearly once a game that's downright jaw dropping.
How about when he tackled Seahawks running back Eddie Lacy with Seahawks fullback Tre Madden?
How about when he outran every Patriot to the end zone on his scoop and score in New England in week 3?
Remember when he nearly caught Bengals receiver Brandon LaFell 90 yards down field in last year's AFC South clinching win?
The interception he tipped to himself on a screen pass in last year's AFC Wild card playoff win?
He's second in the league with 17 tackles for a loss and ninth in the NFL with 9.0 sacks. He has a five game sack streak, the longest such streak in the NFL at the current moment. But, to me, it's how he's transforming from uber-athlete/freak of nature to dominant football player with a toolbox that he can utilize at any point in time. His sack last Monday night was indicative of the growth that he's made as a player.
The Ravens faced a third and long in the first quarter. On the prior play, Ravens left tackle Ronnie Stanley went out of the game with an injury, forcing left guard James Hurst out to left tackle. Luke Bowanko came into the game at left guard and that's exactly where Clowney placed his hand in the ground on this play.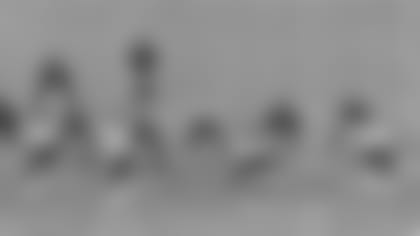 That's the thing about Clowney, he's strong enough to play any defensive line position on the field, agile enough to play any linebacker position on the field and disruptive enough to play, well, any defensive position on the field. On the snap, he hit Bowanko with a huge left club move.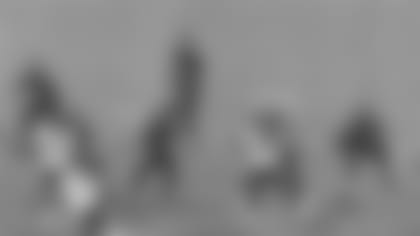 That club move dislodged Bowanko from his spot and allowed Clowney to move closer to the quarterback. But, look at that shot again, Ravens center Ryan Jensen. He had eyes on Clowney the whole time. As soon as Clowney was clear of Bowanko, Jensen slid over to protect quarterback Joe Flacco.
Now, pass rushers don't want to square up 300 lb. linemen on the way to the quarterback; they'd like to rush half a man, setting that guy up with his best pass rush move. Clowney didn't have that luxury. He had just beaten one O lineman and now Jensen wanted some...unfortunately for him. So, after hitting Bowanko with the club move, an instant later, Clowney then used a swim move to get hip to hip with Jensen. Once Clowney could clear his hips from Jensen, he had a chance to get to Flacco.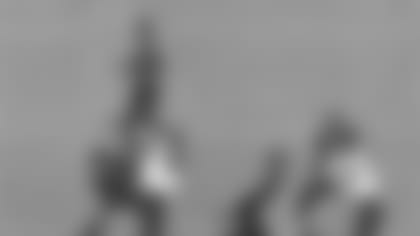 The tough part of a swim move is that the rusher's entire rib cage and side are exposed and here Clowney's were presented as a huge target. However, he was so quick with his movements that Jensen couldn't even hold him and keep him from Flacco. But, he did get enough of Clowney to push him slightly off the spot. But, look at the next picture…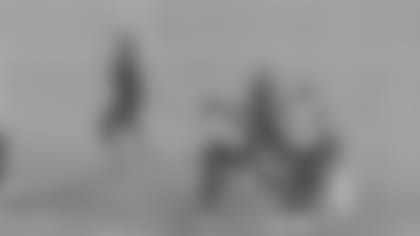 ...Clowney planted his right foot in the ground so as to not get pushed further upfield and exploded through Jensen's attempt at a hold/block. Two steps later…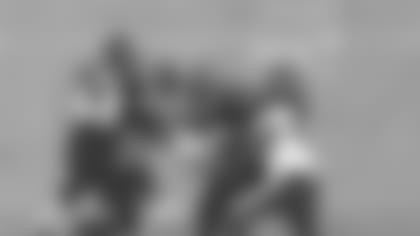 ...sack number nine on the season.
Looking at what he did this way doesn't really do Clowney justice in some sense, because to hit two different linemen with two different pass rush moves in the time it takes you to clap twice, is outstanding work. I watched this one completely live. I had my eyes on Clowney the whole time and by the time I said "WOOOOOO" after he beat Bowanko, he already whipped Jensen, on his way to Flacco.
He's still has all the freaky, athletic gifts of nature that were so enticing when he entered the league, but now he's added tools to his toolbox and he's flourishing, much to the chagrin of offensive linemen, running backs and quarterbacks alike.
OLB Jadeveon Clowney's career as a Texan and South Carolina Gamecock is profiled here in pictures.