The Houston Texans beat the New Orleans Saints 20-13 for back-to-back home victories this season. The Texans now hold a 3-3 record heading into their Week 7 bye.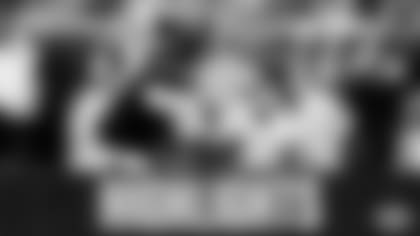 On the Texans' first scoring drive, QB C.J. Stroud finds WR Noah Brown for a big-time 34-yard pickup in the first quarter against the New Orleans Saints.
Two plays later, Stroud connects with TE Dalton Schultz for a 1-yard touchdown pass vs. the New Orleans Saints to take a 7-0 lead. Schultz has scored a touchdown in three consecutive games.
"Dalton has had two back-to-back big games for us," Head Coach DeMeco Ryans said. "He put the team on his back last week to give us an opportunity to close that game out, and coming back this week, there's a lot of big catches, a lot of explosives. Seeing Dalton in the passing game it's been what we anticipated we would get from him and it's showing up big time. Proud of Dalton for him showing up, making big-time plays."
WR Nico Collins makes eye-popping catch on QB C.J. Stroud's 24-yard deep ball against the New Orleans Saints.
Collins beats New Orleans Saints CB Marshon Lattimore for a 28-yard reception, Collins' longest of the game. The third-year WR finished with a team-high four catches for 80 yards.
WR Robert Woods catches a 6-yard touchdown pass from Stroud with 2:56 left in the second quarter against the Saints to give Houston a 17-7 lead.
Stroud lasers 31-yard completion to Schultz in the New Orleans Saints' territory.
Texans SWARM and stop New Orleans Saints RB Alvin Kamara short of sticks for fourth-down takeaway in crunch time.
"Jimmy made a nice tackle on Kamara to give us an opportunity to stand up," Ryans said. "But guys executed, when it's critical situation, situations where we haven't been really good defensively in the red zone, I think our guys stood up today and shut them out in the red zone. And that was the difference in the game."
CB Steven Nelson leaps in front of New Orleans Saints WR Michael Thomas for a key interception that ends the game in a Texans' 20-13 victory. Nelson now has a team-high three interceptions through six games this season.
"I'm really proud of the defense, how we stepped up and made a play," Ryans said. "When the game was on the line, when we needed it most, guys stepped up. And it's tough to win in this league, but it was awesome to see the way our guys grinded it out. The way they stepped up right there at the end with Nelson making a big-time interception there."
Check out the Stroud's best plays in his two-touchdown game against the New Orleans Saints in Week 6 of the 2023 season.
"Our biggest thing was empty the tank and leave the game 3-3 going into the bye week," Stroud said. "That's huge for us. Gotta have a good bye week and get better there. Rest up because it's going to be a big-time second half of the season that we need to execute better and be better at. So happy with the win and proud of my guys for being resilient and fighting."
Watch the Houston Texans against the New Orleans Saints highlights from Week 6 of the 2023 season at NRG Stadium.