The Texans and San Francisco 49ers held joint practice at the Houston Methodist Training Center for the second consecutive day. Practice was long and productive, but there were no fights like the one between DeAndre Hopkins and Jimmie Ward that kicked off Wednesday's joint practice.
"A little scuffle," Hopkins said Thursday. "Basically a little game of tic-tac-toe. It's football. That's my friend. That's football. It's nothing more than us just out here playing football."
That did NOT happen on the first play of Thursday's practice, but this did...a one-handed grab from Hopkins on a pass from Deshaun Watson.
Bill O'Brien will determine how long starters will play in Saturday's preseason game against San Francisco. Since the teams accomplished a lot in their two days of practice, starters likely won't be playing any more than they need on Saturday, if at all.
"I think it would be about the same," O'Brien said. "It would be about the same. We just ran about 150 plays in two days in 100-degree heat and those guys you're talking about, most of those guys got probably 50 reps in two days. So, that's just really good work."
Thursday's practice was a who's who of attendees from Hall of Fame pass rusher Charles Haley to a slew of former NFL players. Check out this picture with some former Texans, including Kailee Wong, DeMeco Ryans, Andre Johnson, J.J. Moses and Travis Johnson.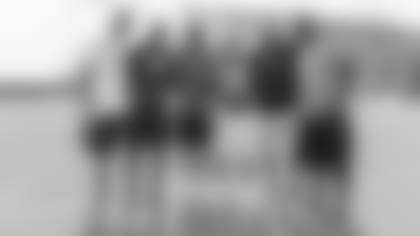 Fans are so creative. Yesterday, J.J. Watt was asked to sign a T.J. Watt Steelers jersey. Today, it was this Texans top hat.
Hopkins and Richard Sherman chatted before practice and even worked together on some drills afterwards.
"It's always good to up against a veteran guy because he can tell your weaknesses, he's going to tell you after what you need to work on," Hopkins said. "So, going up against guys like that, it helps me stay on top of my game."
One of the many benefits of a joint practice, according to O'Brien.
The Texans and 49ers will hold their second joint practice on Thursday at the Houston Methodist Training Center. Both teams will face each other in Saturday's preseason game at NRG Stadium. Kickoff is set for 7 p.m. CT on ABC-13 and SportsRadio 610.