The West Virginia rain that was looming all week and finally arrived during Friday's practice.
From a light shower during warmups to torrential downpours near the end of practice, Texans players made the most of their wet day of work.
"It's important to have practices like this because obviously we're going to play outdoor games early in the season," head coach Bill O'Brien said. "Never know what the weather is going to be like up in the Northeast and the East Coast. I thought the guys handled it well. There were some really good teaching parts of practice that we can get off the film. Good situational practice. Good day today."
Yes, a lot of situational work during a final period that went on for an extra long amount of time. The end of practice, though was capped off by a slip-and-slide party on the field.
"I think it started with the rookies and then everybody saw how much fun they were having so everybody jumped in," David Quessenberry said. "It was pretty awesome."
Players practiced in shells and several returned after a rest day yesterday, including Johnathan Joseph, Tyrann Mathieu and Will Fuller V.
Wide receiver Keke Coutee has not practiced recently and likely will not play in the Texans first preseason game at Kansas City on Aug. 9.
"He's dealing with a – I wouldn't say a serious injury – but he's got to take some time to get back from it," O'Brien said. "He'll be back. He'll be back eventually. Probably won't be back for Kansas City, but hopefully after that."
Quessenberry has been practicing every day. The offensive lineman, diagnosed with non-Hodgkin lymphoma in 2014 and now cancer-free, has a new-found appreciation for training camp.
"I feel good I feel like I'm getting stronger," Quessenberry said. "I feel like last year there was a lot of rust and aches and pains and kind of getting over that hurdle. This year I just feel like every day I'm getting stronger. I'm coming out here, I'm enjoying it. My body feels great so it's exciting for me and motivating."
Several guests were at practice on Friday. Former Texans Andre Johnson, Kevin Walter and Travis Johnson arrived and talked with players before practice.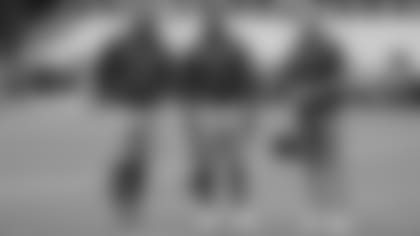 Players from two local football teams, Greenbrier East High School and James Monroe High School, also attended training camp practice as special guests.